Q&A: Noise-Pop band Sharkmuffin has More Than a Clever Name

New York's noise-pop band Sharkmuffin is one of those prime examples of why music fans continually rave about the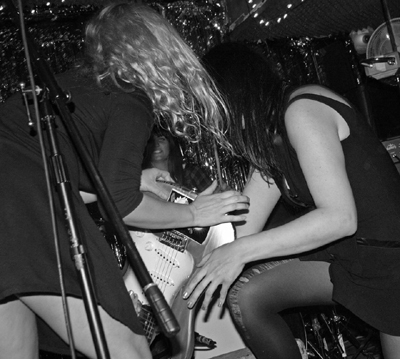 Big Apple's stupidly diverse scene.
The trio – Tarra Thiessen (vocals, guitar), Natalie Kirch (bass, backing vocals), and Janet LaBelle (drums) – have a sound reminiscent to that of Yeah Yeah Yeahs, but maintain a fresh, young identity that could evolve into something really special.
Recently, Riffyou.com caught up with Thiessen to learn about the band's upbringing; NYC; and attempting to break free from easy artist comparisons.
RY: Firstly, could you tell me how the three of you found each other? Also, what makes you click as a unit?
Tarra: "I was introduced to our bassist/backing vocalist Natalie by a friend named Nate who I was introduced to through my other friend Natalie. Also, strangely enough, my middle name is Natalie. The name Natalie actually comes from the Latin world natalis, which means 'birthday,' so in a weird way it makes sense that playing with Natalie signified the real birth of Sharkmuffin. I had played with a few other people before that, but Natalie instantly shared her red lipstick with me the first day we jammed, and we clicked immediately.
"We found Janet LaBelle while looking for a fill in drummer for CMJ 2013. It was sort of a trial by fire, but we gave her the option of joining the band permanently. We had such a good time that week that I couldn't imagine Sharkmuffin without her.
"There are a lot of reasons why we work as a unit. We all love '60s girl group music, and '90s rock, and '70s punk. I'm kind of like a reckless little kid, and Natalie and Janet both work with children outside of the band, so they know how to deal with me."
RY: You just released 1097, a pretty to-the-point, energetic punk EP. How do you feel that it improved upon your previous release, She-Gods of Champagne Valley?
Tarra: "I feel like there was a lot of improvement in my guitar work. She-Gods had one shitty guitar solo in Femebot, and the rest of the record was pretty straight forward and fast power chords. On 1097 I recorded theremin and pocket piano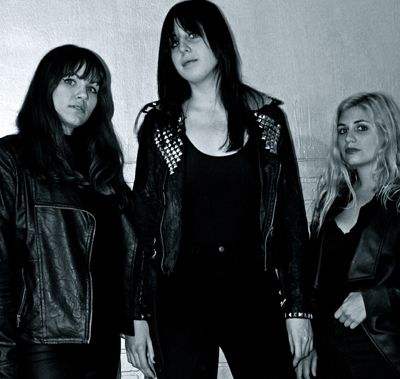 for the first time on the tracks "Foul Play" and "TEN TEN," which was a lot of fun. Playing the theremin feels like performing voodoo."
RY: Evolution is something most bands continually strive for. How much focus do you place on where you've been musically, to where you want to go musically?
Tarra: "I try to write a song every day and we jam stuff out as a band as much as possible. Growing musically over time feels more like a natural process than something we focus on consciously."
RY: NYC is obviously a very competitive market for bands – regardless of genre. What could you tell us about the experiences you've had within that scene? How has it affected the way you approach your band?
Tarra: "Brooklyn actually has a very productively competitive scene at the moment. There are so many different DIY loft venues to play at, and everyone seems to be booking and playing shows, and reaching out to each other all the time, even after they've only seen your band play once. It's very supportive.
"Our friend Win recently opened up a studio in Williamsburg called Slackgaze …they have showcases there every week. We haven't played there yet, but we love playing with all the bands that are playing there. Someone in South Carolina asked us where punk bands play in New York, and it was difficult to describe the problem of having so many places to play and having so many shows to go to all the time. The way it's affected how we approach our band is to have a live set that is short, and has a ton of energy. Since you can see so much music all the time, and it can get boring seeing someone dick around on a keyboard or stare at their guitar pedals for 40 minutes, we want our set to hit you in the face. I might even accidentally hit you in the face."
RY: With NYC known for its love of all things punk, how have you balanced being influenced by the scene around you and staying true to your vision?
Tarra: "NYC classically is known for its punk movement, but I don't really see too much straight-forward punk music in the city anymore. There's a lot of indie pop and synth pop and shoe-gaze…and nostalgic '80s and '90s alternative crap.
"We aren't really too influenced by the bands that we play with, even though we love playing with them. We're actually more influenced by contemporary west coast garage bands like Thee Oh Sees and Ty Segall. It's easy to stay true to your vision when your vision involves not really taking anything too seriously or giving a fuck about what everyone else is doing."
RY: The whole "Riot Grrrl" tag has been associated with your band. How do you feel about that?
"It's a nice compliment, since my favorite song in 8th grade was 'Rebel Girl' by Bikini Kill. But, I don't feel like it makes sense to call us Riot Grrrls since in the early 90s I was still a toddler. I'm thankful for their fight to normalize being a female in a punk band, and creating a more equal playing field for women like me to play music without getting shit for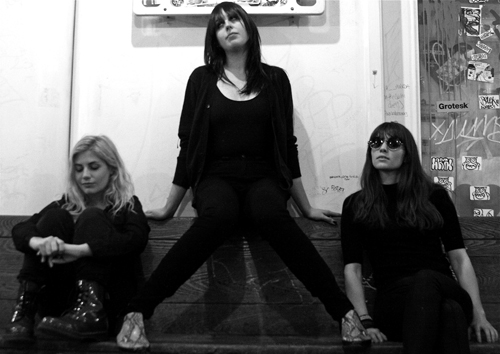 it. I do feel like we need to start creating new genre names instead of taking the easy way out and tagging 'post' or 'revival' on the front or back of a music movement that has already had its time."
RY: Upon listening to you, it'd be easy to compare you to a band like Yeah Yeah Yeahs. Have you heard that before, and do you take cues from that band? If not, which artists do you look up to or feel inspired by?
"It's starting to feel like 'Brunette with Bangs" is a new music category. I get so many comparisons to Chrissie Hynde, Patti Smith, Joan Jett and Karen O, and it's amazingly flattering, but it also seems like a cop out. At the same time though, The Yeah Yeah Yeah's Fever to Tell album is one of reasons why I started playing music in the early 2000s, and Karen O's live persona has inspired our live set immensely. So I really shouldn't complain. We also are super inspired by the band The Mallard (who broke up after SXSW last year) and by Courtney Love's old band Hole. I get Courtney comparisons sometimes, but she's a blonde so it's a stretch. "
RY: You've probably been asked this a bunch before, but where did the name Sharkmuffin come from? Also, has the name allowed you to create some really badass merch?
Tarra: "A sharkmuffin can be a cute girl who is a pool shark, or it could be a creative cat call. We really want our own Ben & Jerry's ice cream flavour."
-Adam Grant
Please be sure to follow us on Twitter @riffyou and at Facebook.com/riffyou.