Getting to Know: New Jersey Alt-Rockers, Morningside Lane

In the Friday edition of Getting to Know, we meet New Jersey alt-rockers Morningside Lane. They take cues from The Gaslight Anthem, and have received a little help from the Bouncing Souls. If you are in an up and coming band that would like to partake in a Getting to Know feature, contact editor@riffyou.com to receive the questionnaire and instructions. Thanks!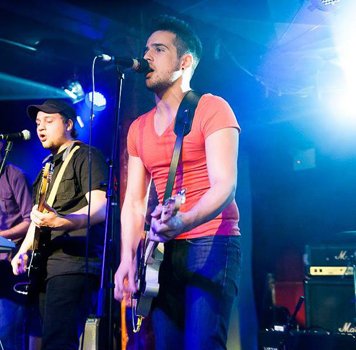 Band Name: Morningside Lane
Band Members: Marc Del Giudice (lead vocals, guitar), Jon Khan (guitar, background vocals), and Alexander Del Giudice (drums). We're currently going through a change in regards to our bass player.
Years Active: 5
City of Origin: Fort Lee, NJ.
Who are you and what do you do?
"We're Morningside Lane, an alternative rock band from New Jersey, with punk and soul roots. We have a wide range of influences that come together to create our modern rock n' roll sound."
In 100 words or less, tell us how your band has gotten to this point.
"We started out playing local coffee shops and open mics around North Jersey. We've gone through many line-up changes and sound improvements to become the band we are today. With the help of some important people, and the support of our friends and family, we've been lucky enough to play alongside a handful of huge names in the industry. Our third EP, out in February, is the most accurate depiction of who we are."
What is your latest release and how would you best describe it to someone who hasn't heard your band?
"On February 18th, we'll be releasing our newest EP, A Fifth of Elvis. This new record combines punk rock and organic rock to create a modern rock 'n roll sound. It was recorded in January at Little Eden Studios in Asbury Park – produced by Pete Steinkopf of the Bouncing Souls."
When making an album, which aspect of the process do you put the most time into and why?
"Rehearsing is what we spend most of our time doing. We spend weeks, sometimes months on a single song preparing it to be recorded and/or performed live. Each band member is constantly tweaking their parts to create the best possible sound."
What is the best part about your band and why?
"The best part about our band is the chemistry and dedication that everyone has for the music. We all agree that the band and the music come first before everything else. Our focus is always to improve ourselves and become a better band overall."
What makes your band unique from the rest?
"We feel that our sound makes us unique. Our wide range of influences come together to create a modern rock n' roll sound that doesn't come across very often."
How does your band survive the challenges of touring/gigging?
"We survive by busting our asses when necessary. When we tour, we sleep wherever we can, and try and make the next show successful. For instance, on our last tour we spent a night sleeping in our van at a rest area alongside the Massachusetts turnpike. The amazing experience of touring always outweighs the negative side of touring. It's always well worth it."
Would you rather be critically-acclaimed; rich and famous; or an under-the-radar band with a
dedicated fan base?
"There is no question that we would rather be an under-the-radar band with a dedicated fan base. No amount of money would ever separate us from what we're in it for – the fans – the people who believe in our music and understand what we speak for."
If you'd have to compare your band to another one out there, living or dead, who would it be and why?
"We would compare ourselves to The Gaslight Anthem. Coming from the same area with a similar range of influences, we've drawn many comparisons to them. They're also really cool dudes that we've developed a relationship with over the years."
Which band/musician would you like to share many drinks with? What would you talk about?
"I think everyone in our band would say Bruce. Springsteen is such an interesting, inspiring, and noble person with so much to say. Sharing drinks with him would be a dream come true. There are so many different things we would talk about."
Please be sure to follow us on Twitter @riffyou and at Facebook.com/riffyou.