Getting to Know: Swedish Celtic-Punks, Captain Jack's Army

In this edition of Getting to Know, we travel to Sweden to learn about Captain Jack's Army, a Swedish Celtic-punk band that takes their cues from Flogging Molly and Dropkick Murphys. If you are in an up and coming band that would like to partake in a Getting to Know feature, contact [email protected] to receive the questionnaire and instructions. Thanks!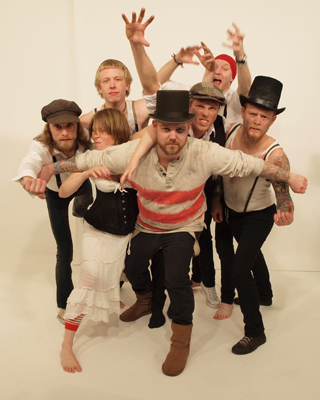 Band Name: Captain Jack's Army
Band Members: Pär Palm (lead vocals), Martin Fogander (guitar), Ariel Sanga (guitar), Jonas Gustavsson (mandolin & banjo), Alexandra Ekelöf (violin), Andy Pettersson (bass), and Jack Karlsson (drums).
Years Active: Nearly 3 years (since the spring of 2011)
City of Origin: Linköping, Sweden
Who are you and what do you do?
"Captain Jack's Army is one of the up and coming Celtic-punk rock bands in Sweden today, with noticeable influences from Flogging Molly and Dropkick Murphys. The band has quickly built a reputation in Sweden as one of the most interesting and energetic – still unsigned – live acts."
In 100 words or less, tell us how your band has gotten to this point.
"The band was originally formed by five childhood friends in 2011 as a tribute band to the well known Dropkick Murphys and Flogging Molly. Another three musicians joined in and the drummer, Jack, was the inspiration for the chosen band name – Captain Jack's Army. The band has quickly made its name as one of the best live bands in the region. However, playing covers was no longer enough, and in 2012 we released our first single, "One for All," and on Christmas day of 2013 our first EP, Royal Arms."
What is your latest release and how would you best describe it to someone who hasn't heard your band?
"Our latest release is our EP, Royal Arms. With the fifth track on the EP, we chose to give tribute to one of our favourite songs out there, "Worker's Song." It's a dynamic EP, which stands firm with one foot in the punk rock field and the other in the Celtic folk tradition. But still, the attentive listener might experience some strokes of the Swedish music tradition as well."
When making an album, which aspect of the process do you put the most time into and why?
"Since starting to write our own material in 2012, the song writing has been very important – especially since we needed to update our identity in a way to steadily transform from a tribute band into a band writing and playing our own material. We let the song writing take its time, and always with the ambition that everyone is invited to take part of the creative process. One person brings an idea, and the others are free to build on that, together or on their own. During the production phase of our latest EP, the song writing continued in the studio, with new ideas brought forward and old ideas improved while in recording mode."
What is the best part about your band and why?
"The best part of Captain Jack's Army is that it's pure joy – simple as that. We let that joy shine through in our songs and every time we're up on stage. And when any emotion is sincere, the audience and fans give even more back. So it's really an upward spiral of pure energy and love for what we do."
What makes your band unique from the rest?
"There are several things that make us stand out from other Celtic punk rock bands out there. For example, we can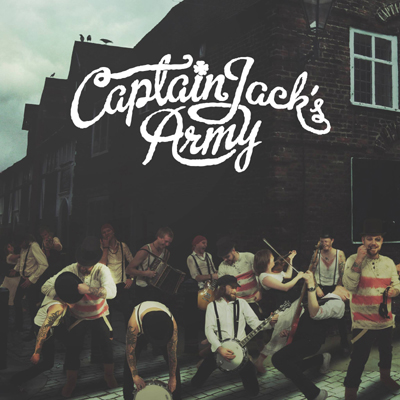 dance at the same time as we play. A much appreciated trademark! And also, everyone in the band has a strong identity that differs from the next – we have more than once been described as caricatures from a comic strip. We have a strong female front figure – next to our lead vocalist – who also sings, which is unusual in this musical genre."
How does your band survive the challenges of touring/gigging?
"We survive by being honest and open. It has never been an issue to speak your mind or even have a tantrum in this band. We've all been there. We let the frustration out and then go back to business. Since several of the members also have families back home, the tolerance and understanding is quite high when the energy isn't at its highest."
Would you rather be critically-acclaimed; rich and famous; or an under-the-radar band with a dedicated fan base?
"The ambition has never been to be rich and famous, but we do want to be noticed for what we do. Let us be very clear that our first priority is and has always been to enjoy ourselves and have fun. When the joy is exchanged for money, there really is no point. But, to be able to give as much as we would like to, money is of course an issue. We do have high ambitions with our music, for the simple reason that we want to do even more of what we already do."
If you'd have to compare your band to another one out there, living or dead, who would it be and why?
"It's quite simple actually. The bands that we have most in common with musically are Flogging Molly and Dropkick Murphy. It's hard not to be strongly influenced by them when playing their songs."
Which band/musician would you like to share many drinks with? What would you talk about?
"Now this brings on a debate. Some members might shout out Ozzy Osbourne and talk about crazy trains and all-terrain vehicles. Others might say something more predictable like Dropkick Murphy's or Flogging Molly and talk about their tribute ankle tattoos. Another would say Tina Turner and talk about what the magic trick is to tirelessly run back and forth across the stage for two hours straight."
Please be sure to follow us on Twitter @riffyou and at Facebook.com/riffyou.