Getting to Know: Wisconsin two-piece rockers Lost In A Name

To kick off the week in Getting to Know, we find out about Wisconsin-based two-piece Lost In A Name, and how they try to give club crowds an arena-like experience. If you are in an up and coming band that would like to partake in a Getting to Know feature, contact editor@riffyou.com to receive the questionnaire and instructions. Thanks!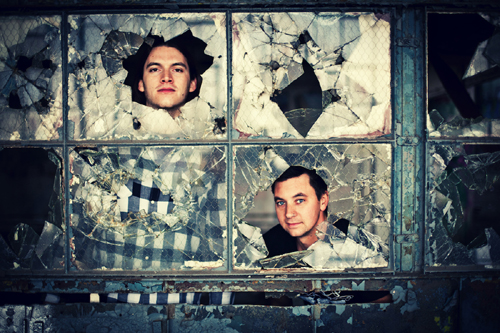 Band Name: Lost In A Name
Band Members: Danny Schmitz (guitars, vocals) and Geoff Slater (drums, vocals).
Years Active: 7
City of Origin: Milwaukee, WI.
Who are you and what do you do?
"Lost In A Name is a two-man, high energy rock band with catchy vocals, powerful melodies, shredding guitars, and chest-pounding drums. We have a fully-automated light show to compliment our high energy live shows!"
In 100 words or less, tell us how your band has gotten to this point.
"Lost In A Name has been guitarist/vocalist Danny Schmitz' brain child since high school. 16 member changes and seven years later, Lost In A Name has settled into a polished, two piece, heavy rock outfit. Drummer Geoff Slater teamed up with Schmitz about a year ago and his power and flair easily complement Schmitz' technical prowess and showmanship. Delivering a dynamic live show filled with hook-driven melodies that have fist-pumping authority, we put together an arena experience in a rock club setting."
What is your latest release and how would you best describe it to someone who hasn't heard your band?
"Our latest release is our EP, The Chorus Gives Us Reason. It's a four-song release with heavy, yet catchy songs about trusting yourself enough to follow your dreams. It's about realizing you have the ability to overcome everyone waiting for their chance to tell you that you can't have your dreams."
When making an album, which aspect of the process do you put the most time into and why?
"Each part of the process is incredibly important, and without the right balance, neglect for one aspect in favour of another can really hinder the final outcome. That being said, it's ultimately all about the song, and the actual song writing process can (and probably should) take the most time."
What is the best part about your band and why?
"It is the fact that we turned two band members quitting into something positive. We used to be a four-piece band, but two of our members quit in quick succession, and we were forced to make a decision. That decision was to move forward as a two-piece, and Geoff and I work so well together, and are on the same page about seemingly everything, that we've actually grown a lot further, much quicker as a two-piece. We've turned lemons into lemonade and are really proud of what we've been able to do just the two of us."
What makes your band unique from the rest?
"The fact that we are a two-piece band with a HUGE sound and a fully automated light show makes us stand out from the crowd. We pride ourselves on our live show, and after half of the band quit, we really had to make sure our show was worth seeing. A two-man band could potentially be a pretty boring thing to see visually, so we've taken great strides to make sure our show is something exciting and special. On stage, we are each on one side, angled in toward each other a little, as opposed to the traditional, drummer in back, band in front approach. We have moving lights that are perfectly in time with the music. We even occasionally have celebrity guests join us on stage in the form of cardboard cut-outs. Such guests include Chewbacca, and Justin Bieber."
How does your band survive the challenges of touring/gigging?
"Touring and gigging can be the absolute best time, but it can also be a physically, and mentally daunting task at times. Geoff and I are always focused on how we can improve as a band, promote the next show, and budget our time/money in a profitable way, so most of the down time that occurs on tour is spent planning. We also spend a LOT of time on social media interacting with our fans, and that is incredibly rewarding and humbling. These things keep us inspired and motivated and really keep us going. The ultimate reward is a great show. One awesome show is worth 100 shitty shows; thousands of miles in a van; and sleeping on floors."
Would you rather be critically-acclaimed; rich and famous; or an under-the-radar band with a dedicated fan base?
"In an ideal world we'd be a critically-acclaimed, rich and famous band with a dedicated fan base! If we had to choose one of the three, we'd choose under-the-radar band with a dedicated fan base. We'd rather have 100 die hard, dedicated fans then 1,000,000 passive fans that will jump ship as soon as the next band comes along. We'd rather have a modest long, successful career then a flash in the pan super star success for a year and half and then fall off the radar completely."
If you'd have to compare your band to another one out there, living or dead, who would it be and why?
"I would have to say we have Sevendust's work ethic; A Day To Remember's mix of heavy and catchy [elements]; and Coheed and Cambria's propensity for sweet guitar riffs and epic, huge sounds."
Which band/musician would you like to share many drinks with? What would you talk about?
"We'd love to get a drink or 3 with Dave Grohl. We'd ask him all about his early days with Nirvana, what Kurt Cobain was really like, and how he thinks the Foo Fighters have remained relevant for so long. But ultimately, we'd probably end up just hanging out and shooting the shit. He seems like such a down to earth, real person with a great sense of humour."
Please be sure to follow us on Twitter @riffyou and at Facebook.com/riffyou.