Getting to Know: BC Pop Act, BESTiE

In thie edition of Getting to Know, we get introduced to BC-based pop act, BESTiE. If you are in an up and coming band that would like to partake in a Getting to Know feature, contact editor@riffyou.com to receive the questionnaire and instructions. Thanks!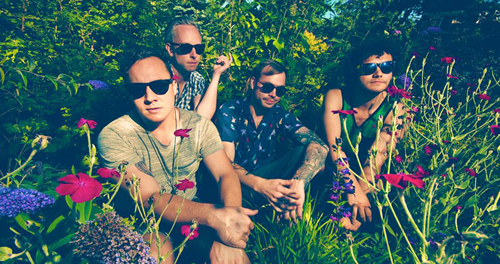 Band Name: BESTiE
Band Members: Rob (bass), Andrew (guitar), Daniel (drums), and Tristan (singing).
Years Active: Since 2012
City of Origin: Vancouver, BC.
Who are you and what do you do?
"I am Tristan. We are BESTiE a pop band from Vancouver, Canada. We play songs for people to have fun to."
In 100 words or less, tell us how your band has gotten to this point.
"We are a group of friends that came together and started to jam with a wide variety of pop and world music influences. We had a big year last year after we released a music video for our song "Pineapple" – this is when people started to notice us. We followed up with two more videos and three remixes. We were also in a big local radio station contest called the Peak Performance project that we ended up placing 3rd in. Over 500 bands entered, which pushed us to be better."
What is your latest release and how would you best describe it to someone who hasn't heard your band?
"Our latest release is a remix of our song "Asleep on the Bus" by On Planets – it's a laid back dance/house jam. For our music in general, people say we have a reggae vibe. We all love reggae. Our guitar player Andrew was raised listening to a lot of African music and a lot of our stuff has that influence. As a singer, I listened to a lot of The Police when I was younger and that's an influence that comes out in our music."
When making an album, which aspect of the process do you put the most time into and why?
"I definitely like the initial inspiration the most: when the vibe is first created and present and you don't really understand what the song is about yet. The essence is there, but it's still very improvised and loose. Other than that, playing live for a crowd. Everything in between is work that you have to grind out. It's all enjoyable though!"
What is the best part about your band and why?
"Definitely playing our music and getting to express ourselves. If there's a crowd to play to, that's a bonus…to be able to communicate. I think artistic expression personally balances me out and there is a constant drive to create – it keeps me somewhat sane. In a perfect world, getting to do this 24/7 would basically be the ideal state. Also, it's kind of a family with the band and being together and doing our thing is pretty fun too."
What makes your band unique from the rest?
"We're the first band to have a doge (dog) that does all of our social media. I think the influences in our music make our sound unique. The creation of something new comes from a lot of diverse places for us. Everything from Usher, to Fela Kuti, Cumbia, and hip-hop influences come into play."
How does your band survive the challenges of touring/gigging?
"We've only been on one tour so far and are excited to do more. I think pacing yourself is key, as well as looking at it professionally, and taking steps to be your best every night. Rehearsing and being tight as a band is important too. You have to put in the work."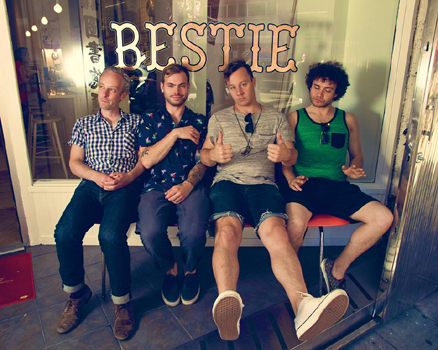 Would you rather be critically-acclaimed; rich and famous; or an under-the-radar band with a dedicated fan base?
"Making a living doing what we love doing is the top goal, so I think that's kind of a mix of all three.  That's a total cop out answer – tough question. We don't really care if the critics like it, although that would be nice. We don't care about fame and would still do this regardless of fans. We would like to not be broke though, so I'm going to go with the money so that we can throw lavish parties for our friends."
If you'd have to compare your band to another one out there, living or dead, who would it be and why?
"People sometimes compare us to Vampire Weekend. I think we have similar influences and are definitely fans of them, but we are the one and only BESTiE. There's actually a K-pop group called BESTie too, so that's actually not really true."
Which band/musician would you like to share many drinks with? What would you talk about? 
"Very honestly, I want to hang out with Juicy J to talk about bitches and getting turned up."
Please be sure to follow us on Twitter @riffyou and at Facebook.com/riffyou.