Getting to Know: Calgarian Alt-Rocker, Nadia Kazmi

In today's Getting to Know, we meet Nadia Kazmi, an alternative rocker from Calgary whose cat must be looked after once stadium shows start getting booked. If you are an indie artist or in an indie band that would like to partake in a Getting to Know feature, contact editor@riffyou.com to receive the questionnaire and instructions. Thanks!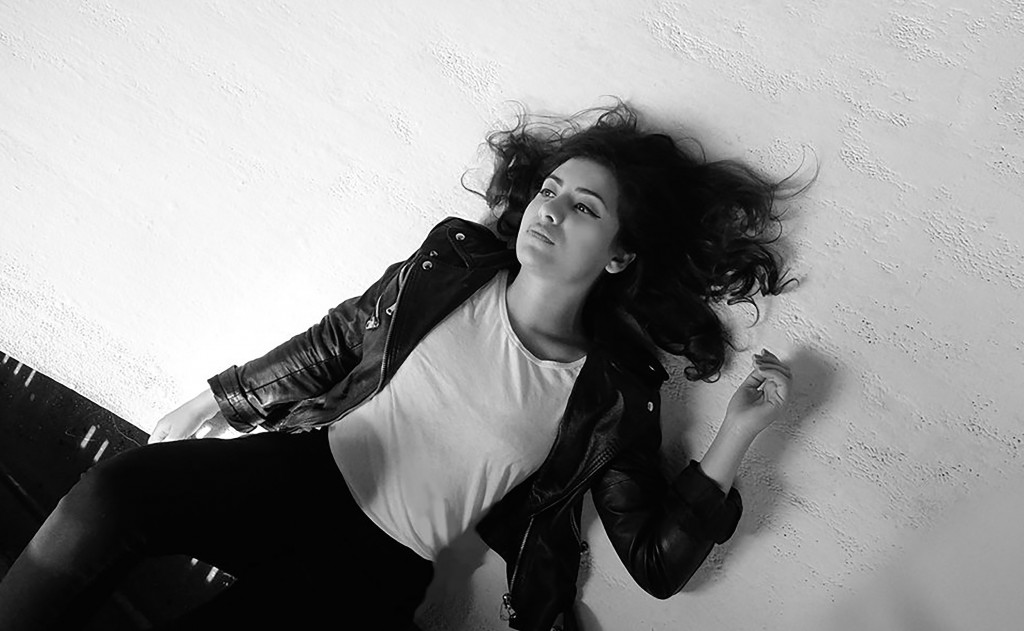 Artist Name: Nadia Kazmi
Years Active: 7
City of Origin: Calgary, Alberta.
Latest Release: Lamb (EP) comes out August 28
Who are you and what do you do?
"I'm a singer who writes and plays dark rock music."
In 20 words or less, how would you describe yourself as an artist?
"Hard-to-categorize, eclectic, intense, dark rock with folk and punk influences."
Why should people care about you?
"Because the music is strange, raw, direct and interesting. Caring is the antidote to apathy. Start caring, indifference is boring."
What is the most hilarious, frightening, or weird thing you have seen from the stage or while on the road?
"When touring in Europe, we had a show in a small town in Belgium called Rupelmonde. After driving for hours from Paris and getting lost repeatedly, we finally found the place and were supposed to be staying in the band apartment above the venue. But they had failed to mention that the owner of the venue would also be staying there because of trouble at home.
"There also seemed to be some kind of mix up and the promoter misrepresented the sound of my music when advertising the show. Although the album was covers of Leonard Cohen songs, they were very much alt-rock interpretations, which seemed to surprise the crowd!
"The weirdest part though was that somehow there were absolutely no children anywhere to be seen in the town. We later concluded that we were in some kind of zombie world where everyone ate children. Seemed like the only logical answer. (It was still a fun show and the Belgians drank with us until 5am!)"
If you become an artist that eventually fills stadiums or arenas, what would be the most ridiculous thing you'd require backstage?
"A cat-sitter. I NEED to take her everywhere with me. She's very particular and something like 120 years old in human years so being fanned with a banana leaf 24/7 is pretty vital."
Which artist could you defeat in a street fight? What methods would you use to ensure victory?
"John Mayer. I would fight him by writing a song that doesn't sound like a lullaby."
What is the most pretentious thing you've seen or heard from another musician/band? Did you love it or hate it?
"A musician/producer once told me he 'made' another artist's sound and she would be nothing without him. He was an idiot."
How do you feel about smartphones lighting up concert venues instead of lighters?
"Meh. Went to see Stevie Wonder recently and the place was packed. Very few phones lit up but then again, a lot of 20-30 year olds came with their parents (which is both weird and awesome). Parents are crap at using smartphones…"
If you had to be a tribute act for just one band, who would it be and why?
"Buffy Sainte-Marie because she writes great songs about important issues and is a serious rock and roll woman. I saw her a couple of years ago at the Calgary Folk Fest and at 75 she was not only rocking out with an all Native, band but doing it with so much energy, while looking fearless in a black leather jacket. Greatness is ageless. That woman is the epitome of cool."
Is it better to burnout than to fade away?
"Fade away. Music is forever, baby."
Please be sure to follow us on Twitter @riffyou and at Facebook.com/riffyou.