Getting to Know: Classic Rock Inspired Trio, Mother Leads

In today's Getting to Know, we meet Mother Leads, an Ajax, ON, trio that takes much inspiration from the classic rock sounds of yesteryear. If you are in an up and coming band that would like to partake in a Getting to Know feature, contact editor@riffyou.com to receive the questionnaire and instructions. Thanks!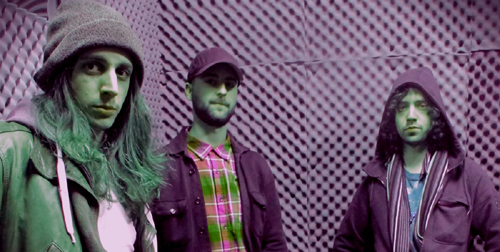 Band Name: Mother Leads
Band Members: Neil Culbert (vocals, guitar), Raymond Cara (drums), Jordan Quinn (bass, vocals)
Years Active: 5
City of Origin: Ajax, ON.
Who are you and what do you do?
"We originated from the sacred suburban grounds of Ajax, Ontario. The coming together was probably predetermined, but more importantly is why it remains: to play loud and never stop moving. After recording two separate EPs in 2009 and 2010 (which sold out of their limited run quickly), we decided to move ahead on recording a debut full-length album with Voodoo Records. It will be released this summer."
In 100 words or less, tell us how your band has gotten to this point.
"Something that has always been important to us is to make sure we're always improving, and playing as much as possible. Being inspired by so many classic giants like Led Zeppelin and Deep Purple also gave us the desire to record as much music as possible, experiment, and learn the ways of the studio. For us, that has always been true north. So that's where we go. We also have killer fans and friends who have supported us over the years and helped the band continue to grow."
What is your latest release and how would you best describe it to someone who hasn't heard your band?
"Our latest release was a 7" vinyl issue of "Bring You Down." This was the first single from our forthcoming full-length album, Myriad. We thought it was a good taste of the direction we took for this record: very balls-to-the-wall rock n' roll. Thanks to Producer Mike Dimitrovic, the album sounds thick and juicy. This 7" was doubled with the B-side "Don't Stop." We were happy with the way it turned out, but labelled it as a bit of an outlier from the rest of the material. That's why we decided make it exclusively available on this release."
When making an album, which aspect of the process do you put the most time into and why?
"I think it really depends on the track. Sometimes a song comes practically in full form, with small things being changed here or there. Other times it's a slow process of elimination and trying new ideas, or even just stripping down to an acoustic guitar and working out the formation that way. The same principle goes with recording. The first two EPs that we recorded were practically done off the floor, with minimal editing and play overs. For Myriad, we spent the better portion of a year in and out of the studio working on vocal melodies, lyrics, condensing songs, etc. It's easy to spend too much time on a track and get crazy with ideas and possibilities. Sometimes it's a skill in itself to know when enough is enough."
What is the best part about your band and why?
"I like to think that the energy we give off at live shows is a strong point. When a band looks like they are really passionate about what is being produced, and having have fun while doing it, people really pick up on that kind of stuff and connect with it."
What makes your band unique from the rest?
"I've always liked what our friend over at 1st Five had to say: 'Mother Leads is, in a word, idealistic. This idealism is notable, as it takes a special breed to make music in 2014 with influences largely taken from the former half of the last 40 years, and yet still create something with any degree of originality.'"
How does your band survive the challenges of touring/gigging?
"For us, touring has always been something that we find fun. Being broke, or sleeping in a van, or smelling bad (lack of showers) never gets in the way of the simple pleasures of being on the road with 20 or 30 gigs lined up in front of you and nothing to do but visit radio stations, drive town to town, and play music. It's really a great feeling. We'll be extending our reach into the US this year and hopefully the west coast next year."
Would you rather be critically-acclaimed; rich and famous; or an under-the-radar band with a dedicated fan base?
"I think aiming to be 'critically-acclaimed' is a good way to ensure that it never happens. I want to be rich so I can buy a beach house and turn it into a recording studio/jam space. That sounds fun, right?"
If you'd have to compare your band to another one out there, living or dead, who would it be and why?
"Any band that rocks. No bands that suck."
Which band/musician would you like to share many drinks with? What would you talk about?
"I'd like to sit down with John Paul Jones and thank him for still being the man."
Please be sure to follow us on Twitter @riffyou and at Facebook.com/riffyou.