Getting to Know: Speedy BC Alt-Rock Band, COCAHALA

In the hump day edition of Getting to Know, we introduce you to BC's COCAHALA, an alternative rock quartet that believes they can beat anyone in a foot race. If you are in an up and coming band that would like to partake in a Getting to Know feature, contact editor@riffyou.com to receive the questionnaire and instructions. Thanks!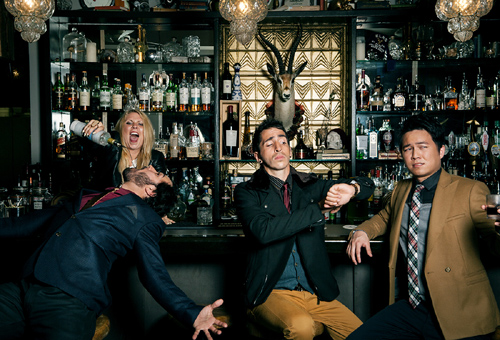 Band Name: COCAHALA
Band Members: Kate (vocals), Dov (drums), Shafer (bass, synthesizer), Don (guitars/synth)
Years Active: 1
City of Origin: Vancouver, BC.
Who are you and what do you do?
"I'm Don, and as of January 2014, COCAHALA is an alternative rock band. With the ever-changing industry, we're always adapting. I wouldn't be surprised if 10 years from now we find ourselves transformed into a popular restaurant chain– or even better, a real estate company. Bonus fact: McDonalds is in fact a real estate company!"
In 100 words or less, tell us how your band has gotten to this point.
"In the time since the conception of the band, we've focused on song writing and recording. We've played a few shows, but that hasn't been our main focus. Now that we've released a single, we're slowly building our momentum. We're still a relatively new band, and we'd love to answer this question again further down the road!"
What is your latest release and how would you best describe it to someone who hasn't heard your band?
"Our latest (and first-ever) release is a digital-only single named "Legs." According to our drummer Dov, 'imagine if Incubus got tired of their singer's pretty face, went back in time to save Janis Joplin, and then morphed her voice with Alanis Morissette's. Add a little synths here and samples there, and you'll almost sound like us.'"
When making an album, which of the process do you put the most time into and why?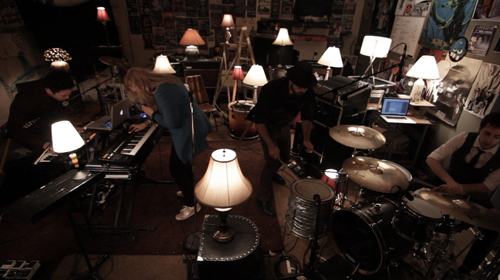 "We spend a tremendous amount of time with the song writing process. With song writing, we're usually able to come up with 80% of the song fairly quick. It's the last 20% that takes the most time. Ever heard of the 80/20 rule? That 20% is us working out the kinks and small details of the music, and then nailing down the lyrics. Being a somewhat new band (although Kate and I have worked together in a previous band), we're still trying to find our groove."
What is the best part about your band and why?
"During the writing and recording process, we never really think about the live-performance aspect. We just try to make the song the best it can be, which means that when it's usually time for us to rehearse for a show, we always find ourselves going: 'how the hell do we do this live?'" So far, not only have we managed to pull them off, it's also made our live performances better in every possible way. We've had to learn new instruments, change the way we play our parts, and restructure songs. On stage, we're always multitasking, switching around instruments, and generally working as a team to make things work. It's fun and refreshing for us, and it also makes for a very interesting and entertaining show from the audience's point of view. But that's just the second best thing about the band. The best thing is that we're all pretty fast runners. Seriously, each one of us can probably beat you in a foot-race."
What makes your band unique from the rest?
"This is always a tough question to answer. Unless you've got something like say, a dog that handles your social media, chances are, what you think is 'unique' isn't really unique. Some band somewhere out there has done what you've done: maybe even better. That being said, there's that running thing that we mentioned earlier."
How does your band survive the challenges of touring/gigging?
"Based on the shows we've done, the greatest challenge we've found is staying fit and well-rehearsed. Our stage setup is somewhat complex, and our songs are vocally-challenging and instrumentally-intricate to perform. Mixed with the usually-short set-up/tear-down times and the pressures and adrenaline rush that happens when on-stage, things can sometimes get out of hand if we're not ready. We've spent a lot of effort (and whatever little money we have) on getting the best rehearsal space we possibly could have. We've also actually dedicated days to just rehearsing our set-up and tear-down processes. And we like to implement a no-beer ritual before shows. Except for our bassist Shafer, who brews his own beer and is somehow immune to all its effects."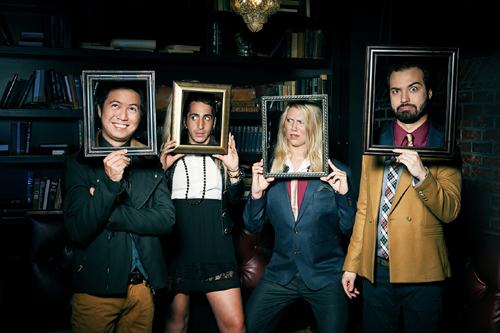 Would you rather be critically-acclaimed; rich and famous; or an under-the-radar band with a dedicated fan base?
"A dedicated fan base is our main priority. But, we think it's entirely possible to have the best of both worlds. Being accessible to a large audience, even though being well received by critics and fans alike and having a dedicated fan base are not exactly opposing facets or impossible."
If you'd have to compare your band to another one out there, living or dead, who would it be and why?
"The Dear Hunter. I believe a lot of thought goes into the concept of not only the songs themselves, but the whole package the band delivers. Also, old school No Doubt. The ambience of our live performances and the gritty pop nature of our songs seem to without a doubt parallel that band."
Which band/musician would you like to share many drinks with? What would you talk about?
"There's Anthony Kiedis of Red Hot Chili Peppers. We're all childhood fans of RHCP. After Kate reading his book and being a fan of RHCP since childhood, she found his life fascinating. We would chat about his life and how fascinating it is. And there's Dave Grohl. We'd be speechless however."
COCAHALA is attempting to record and release one new song a month. Click here to find out how to get your hands on them.
Please be sure to follow us on Twitter @riffyou and at Facebook.com/riffyou.