Getting to Know: Indie Rock act, The Awareness

In today's Getting to Know, we meet The Awareness, an indie rock act based just outside of Toronto. The guys haven't quit their day jobs yet, but wouldn't mind getting in the position to do so. If you are in an up and coming band that would like to partake in a Getting to Know feature, contact editor@riffyou.com to receive the questionnaire and instructions. Thanks!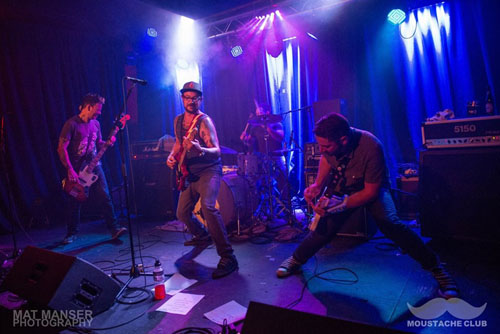 Band Name: The Awareness
Band Members: Barry Mantle (vocals, guitar), Matt Rock (bass, vocals), Andrew Guglielmo (guitar), and Tav Hotoyan (drums, vocals).
Years Active: 1
City of Origin: Oshawa, ON.
Who are you and what do you do?
"My name is Barry, and I am the singer/guitar player in the band."
In 100 words or less, tell us how your band has gotten to this point.
"It started out as a side project. Tav and I recorded a five song EP, and it was born from there. Matt (whom I had jammed with before) emailed me asking why we aren't playing these live. After a few discussions, Matt was playing bass for the band. Andy was a friend of Matt's and really fit in with the guys and it didn't hurt that we jammed at his house. He was the missing piece we needed to get started rehearsing these songs so that we could play them live."
What is your latest release and how would you best describe it to someone who hasn't heard your band?
"Our release is titled The Original Sound Recordings. If you like rock/punk/pop it's somewhere in that mix."
When making an album, which aspect of the process do you put the most time into and why?
"In regards to song writing, most to all was completed before we entered the studio. I love the magic that happens once the tracks are laid down. Guitar layers, backing vocals, tweaking sounds…it's all part of the creation process. I like the blending of sounds."
What is the best part about your band and why?
"The best part of the band is that we are all at a certain point in our lives. The guys in the band all understand there is life outside of music. We can't turn back the clock. We all have full-time jobs and responsibilities."
What makes your band unique from the rest?
"We have yet to be given any clear comparisons to any other band. This isn't particularly good or bad I suppose? People are digging what we have going on for the most part."
How does your band survive the challenges of touring/gigging?
"This is what we play for: the thrill of the live show. For the most part, it is finding days available for all of us to do shows."
Would you rather be critically-acclaimed; rich and famous; or an under-the-radar band with a dedicated fan base?
"We would have to go the 'indie/punk' way. I have seen what happens to people bands when they are hit with success. But hey, who doesn't like money? It buys freedom!"
If you'd have to compare your band to another one out there, living or dead, who would it be and why?
"As mentioned earlier, we really don't have a band to reference. If I could model our band after another, I would go with The Hold Steady, Jimmy eat World and The Sword. These bands are stuck on my turntable and iPhone. All are different, and all super inspirational."
Which band/musician would you like to share many drinks with? What would you talk about?
"Hands down, Dave Grohl. I got the luxury of meeting him in Toronto and talked for a brief five minutes or so. He's super down to earth and an overall nice guy."
Please be sure to follow us on Twitter @riffyou and at Facebook.com/riffyou.