Interview: Born Ruffians Seeking Out Next Album's Sound

Moments after interrupting Born Ruffians in the midst of a laid back game of Trivial Pursuit backstage at the outset of the Toronto Urban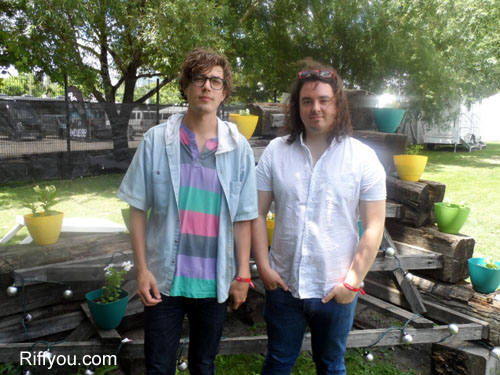 Roots Festival (TURF), Riffyou.com opted to quiz band figureheads Luke Lalonde and Mitch DeRosier regarding what's next for them musically.
"We're just trying to write songs. We're trying to let inspiration come. We're in creative mode right now," instantly offers Lalonde.
But, being in "creative mode" doesn't automatically equate to an ocean of material rolling up onto the shore. DeRosier notes that the band is dealing with many logistical issues like where the band wants to write, demo, and record the material that'll follow up their very well-received 2013 album, Birthmarks.
"The logistics have slowed things down," observes Derosier. "Between playing shows and getting things sorted out for that, we haven't had a lot of time to get together and work on music and have that be the only thing we're thinking about. It's easy for your mind to wander."
To that point, Lalonde, Born Ruffians' chief songwriter, is struggling with some mental logistics. He notes having a bunch of songs organized that are completed in the sense that he can sing them and strum them on the guitar. But, he admits, "I don't know if I'm excited by them at this point. I'm going through this phase where I'm not feeling excited about a lot of stuff. It goes in waves."
Fans: this doesn't mean it's time to panic. As our conversation continues, Lalonde further explains that he's simply "still trying to find a sound for the record," and believes that there's one out there that he hasn't "hit upon yet."
The refreshing aspect of Lalonde's candor is that he doesn't at all seem frustrated or at odds with his new work and the challenge of finding a way to make it make sense to him and the band. He's quite alright dealing with the process of it all.
"Sometimes you need to work on a song," he observes. "And afterwards you'll think, 'thank God we worked two weeks on that song because it's really great now.' Some people really subscribe [to the idea] that if a song doesn't happen immediately, then it's not a good song. I don't agree with that because they all come in different ways. Sometimes you really have to think about them to really get it – to unlock what makes the chorus go from good, to amazing."
While the sound and direction of an album – that Born Ruffians hope to have ready for summer 2015 – hasn't been sorted out yet, what we do know is that Lalonde and Derosier aren't interested in falling back into a comfort zone.
The band isn't actively seeking out making a sharp left moving forward, but does recognize the importance of keeping the music interesting to them.
"I just feel like I want to do something different," says Lalonde. "I just always want to do something that's exciting and something that's inspiring enough to make me want to work on it. I'm just having a hard time finding those songs right now. I just want to write more and more, because I really think there's a lot waiting to be put out from my brain."
­-Article and Photo by: Adam Grant

Please be sure to follow us on Twitter @riffyou and at Facebook.com/riffyou.