Getting to Know: The Raunch & Roll Specialists in Voltang

In today's Getting to Know, we meet Voltang, an energetic rock force that wants to make you forget that you're wearing pants. If you are an indie artist or in an indie band that would like to partake in a Getting to Know feature, contact editor@riffyou.com to receive the questionnaire and instructions. Thanks!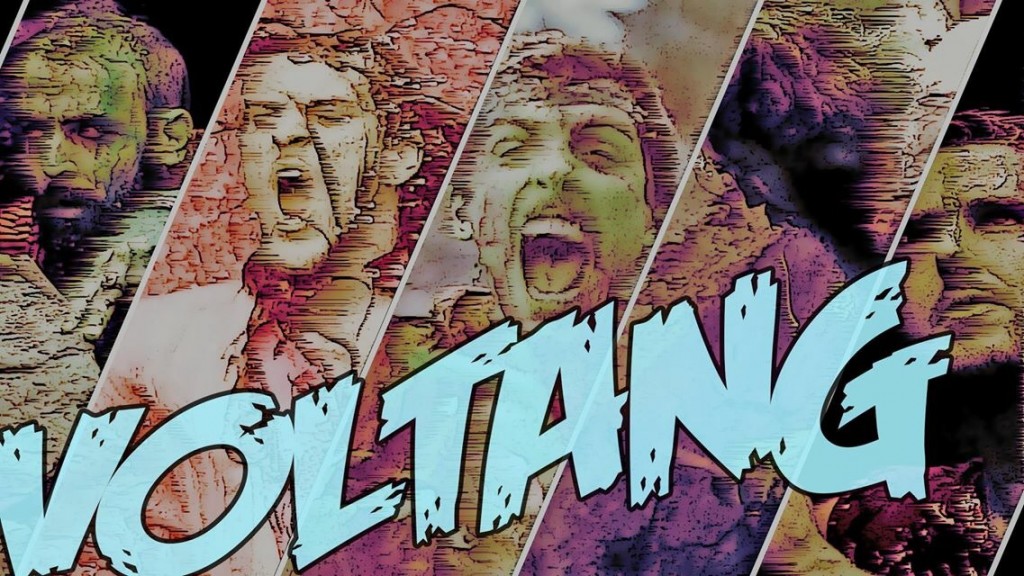 Band Name: Voltang
Band Members: Jake Reimer (vocals), Evan Dreagar (guitar, vocals), Robbie Gaskin (guitar), Dan Serre (bass) and Paul Maxwell (drums).
Years Active: 2
City of Origin: Hamilton, ON.
Latest Release: Hermaphroditē
Who are you and what do you do?
"Voltang does whatever it can to make you break out of your comfort zone. We are a sonic gateway drug. We'll be your raunch n' roll Sherpa into the world of loud, heavy music for those of you who haven't experienced bands that we think you need to hear (Dillinger Escape Plan, The Chariot, Daughters, Hella, Every Time I Die.) We are a bridge to more creative, intellectual and straight up fucking weird music, if you listen to typical hardcore or metal. Whatever you were into yesterday, we aim to show you something new today."
In 20 words or less, how would you describe your band?
"It would take more than 20 words to describe what the following four words embody, but the short answer is 'raunch and fucking roll.'"
Why should people care about your band?
"We're different. Love it or hate it, we're different and we will continue to strive to bring you something new each and every time you come to a show, hear a new song, see a new shirt design or read a social media post. You can hate us, love us, be sick of us or beg for more, but we promise to give every ounce of ourselves to entertain you."
What is the most hilarious, frightening, or weird thing you have seen from the stage or while on the road?
"We once accidentally had a show shut down because we were lighting off fireworks inside our van with the windows up. Apparently, cops aren't huge on that."
If you become a band that eventually fills stadiums or arenas, what would be the most ridiculous thing you'd require backstage?
"A lap dance from Don Knotts."
Which band could your band defeat in a street fight? What methods would you use to ensure victory?
"I think it's a dead tie between Blood On The Dance Floor and Black Veil Brides. The trickiest part would be abandoning all of our moral beliefs and convincing us it's okay to hit a lady."
What is the most pretentious thing you've seen or heard from another musician/band? Did you love it or hate it?
"I read that Ed Sheeran said something along the lines of, 'every generation has their Beatles. I guess I'm my generation's Beatles.' (or something like that). I'm paraphrasing and using a memory that's been pretty boozed up for some time now. But, if I'm remembering correctly, fuck that shit."
How do you feel about smartphones lighting up concert venues instead of lighters? "If your fans have time to get a lighter or a phone out of their pocket, you aren't reaching them the way we want to. Nothing against ballads, they just aren't our vibe. If you aren't going crazy enough to forget you're even wearing pants, let alone remember that you have pockets to fish around in, then we've failed you."
If you had to be a tribute act for just one band, who would it be and why?
"Kvelertak? It would be cool to learn Norwegian, I guess."
Is it better to burnout than to fade away?
"Neither. Party hard 'til you fucking explode."
Please be sure to follow us on Twitter @riffyou and at Facebook.com/riffyou.