Gig of the Year: PUP @ Hillside Festival

When you see as many bands a year as a music journalist does, determining the best performance you've seen through nearly 365 days is usually a challenge. In this case, it really wasn't. When PUP rolled into Guelph, Ontario's Hillside Festival in July, they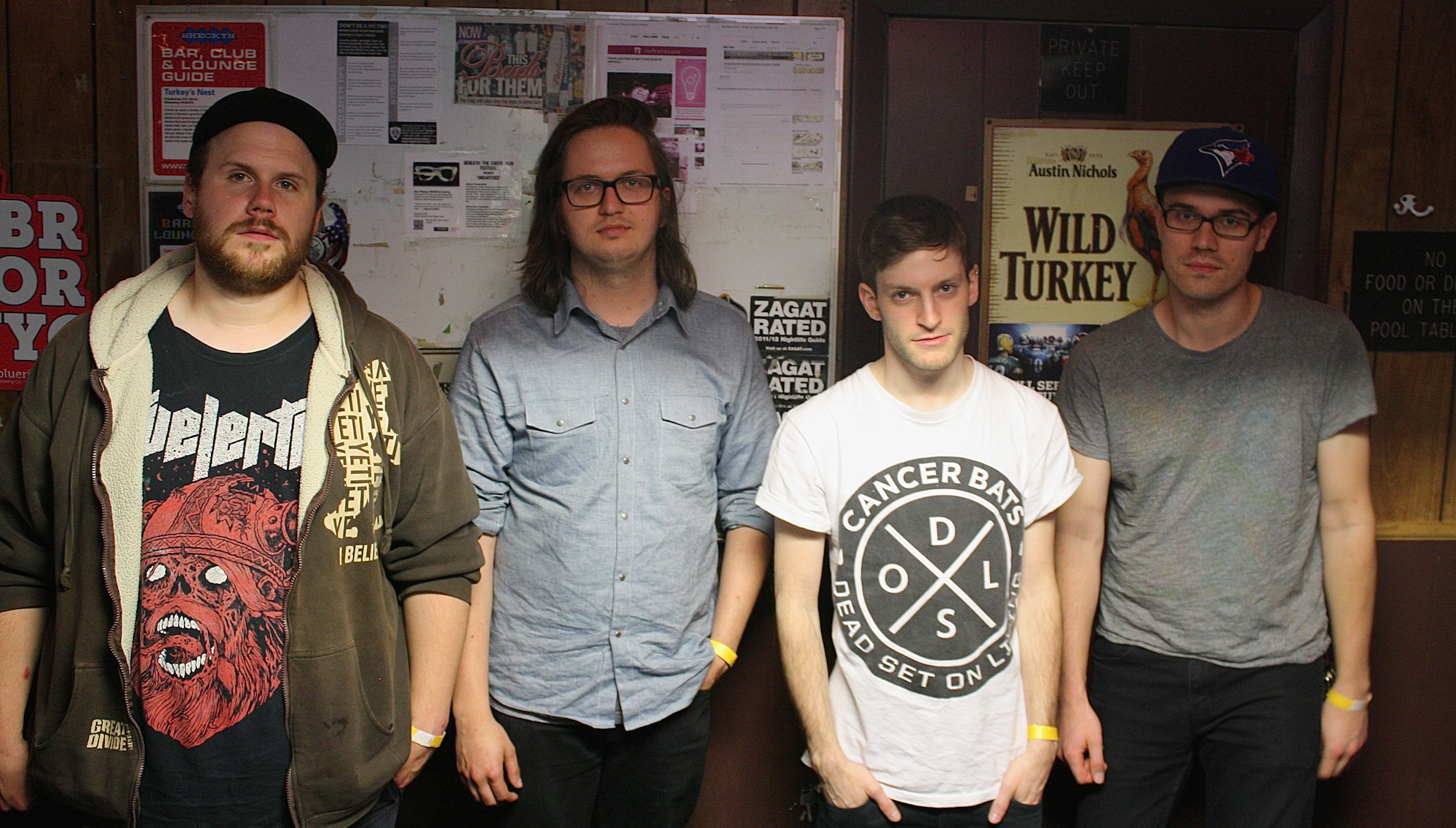 came, they kicked, and they conquered.
As the sky began to darken, the Toronto punk rockers rolled their gear into the big white tent they were set to play, as a cross section of kids and curious adults alike crammed toward the stage. Those a little too uncertain about what life would be like on the grass, took to patio tables to brace themselves for the impending madness.
For those unaware of Hillside, it's generally known as a pretty passive festival. While rock bands are booked, generally this is an environmentally friendly, peace and love type of atmosphere that isn't averse to giving attendees craft workshops or spoken word experiences. Somehow, PUP, not a band known for peace and love – and more into shouting words than having them spoken – got on the bill. Maybe they duped organizers with a fake acoustic EP.
"How's it going hippies!!" exclaimed frontman Stefan Babcock as rumblings from the speakers began to push forward. Upon liftoff with show opener "Guilt Trip," the crowd lost its shit. The sea of people swayed like an ocean, while the fist pumps felt reminiscent of the best punk club gig you've ever attended.
Immediately, some ran for cover; some ran for danger. Pretty girls were leaving the pit with dazed looks – and at least one – with a bloody nose. Crowd surfing can lead to a face getting kicked, but seemingly this girl didn't get the memo.
Dehydration also appeared to strike some down, as the temperature within a crammed outdoor tent on a summer's eve proved too detrimental to many. As for those who lost their shoes, some cared, others treated the loss as a proper tradeoff.
What immediately became clear was the uncertainty in the faces of security and members of the event staff. They appeared overwhelmed by a room that soon resembled hundreds of rubber balls bouncing around a tiny closet. Reinforcements had to be called in and the band was often told to try and mellow the crowd out – the message was given, explained to the crowd by Babcock, but then completely ignored as soon as the next track started.
There was as much a feeling of danger in the room, as there was excitement. It felt like the show could slide off a cliff at any given second as PUP and their devotees wrestled over the same space. Most shows you go to, feel overly controlled, if not stale. Not all aggressive bands really go for it when in the position to do so.
At a festival that is generally pretty tame, PUP seized the opportunity to give it a Converse-kick to the balls and make their performance the one that people would remember.
There was a welcomed-edge to this gig. Not only did the band pull the audience into their layer by the hair, they also sounded impressively strong and offered hope for heavier, bolder, stronger music in Canada.
By the time PUP covered Cancer Bats' cover of The Beastie Boys' "Sabotage," one thing was absolutely clear: PUP not just won Hillside this year, they won the gig of the year championship belt.
For those who weren't there, here's our video footage of PUP performing "Back Against the Wall" at Hillside.
-Adam Grant
-Photo by: Andrew Buttermilch
Please be sure to follow us on Twitter @riffyou and at Facebook.com/riffyou.