GWAR Management Issues Statement on Frontman's Passing

Earlier this week, it was learned that GWAR frontman Oderus Urungus (real name Dave Brockie) had passed away in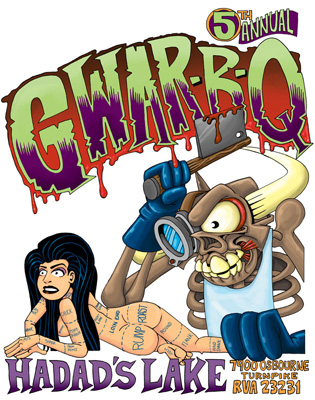 his Virginia residence. Foul play isn't suspected, but the cause of death still remains unclear.
Jack Flanagan, GWAR's manager, has just spoken out on the matter and confirmed that the band's fifth annual GWAR-B-Q festival will take place on August 16 as originally planned. The day prior, a public memorial for Urungus will be held.
It hasn't been determined if or how GWAR will take part in this festival, or which other bands will be on the bill. One has to suspect, though, that more bands will be seeking slots as a way to pay tribute to the late singer.
Here is Flanagan's statement in full:
"On behalf of Dave Brockie's family, Slave Pit Inc. and GWAR, we would like to thank all the loyal fans worldwide for the outpouring of love and support shown to us over the past few days. Knowing that we have such amazing family, friends and fans is truly helping us all get through this tough time.
"We are awaiting a toxicology report from the medical examiners office to confirm the cause of death. The medical examiners office has informed us that the results can take one to three months to be processed. Standard protocol exists that a toxicology procedure be performed.
"We have made funeral arrangements and a private memorial has been scheduled for close friends and family.
"As Dave and Oderus would have wanted, this year's GWAR-B-Q scheduled for August 16th at Hadad's Lake (7900 Osborne Turnpike Richmond, VA) will still take place as planned. We have scheduled the Dave Brockie public memorial to take place the day prior to the GWAR-B-Q, Friday August 15th, also at Hadad's Lake.
"More information shall be released as the details are confirmed."
Please be sure to follow us on Twitter @riffyou and at Facebook.com/riffyou.