Interview: The Dying Arts – "Fuck You & Thank You" Toronto

For Mike Portoghese, the frontman for rigid yet relatable Toronto rock quartet, The Dying Arts, his 20s were the best of times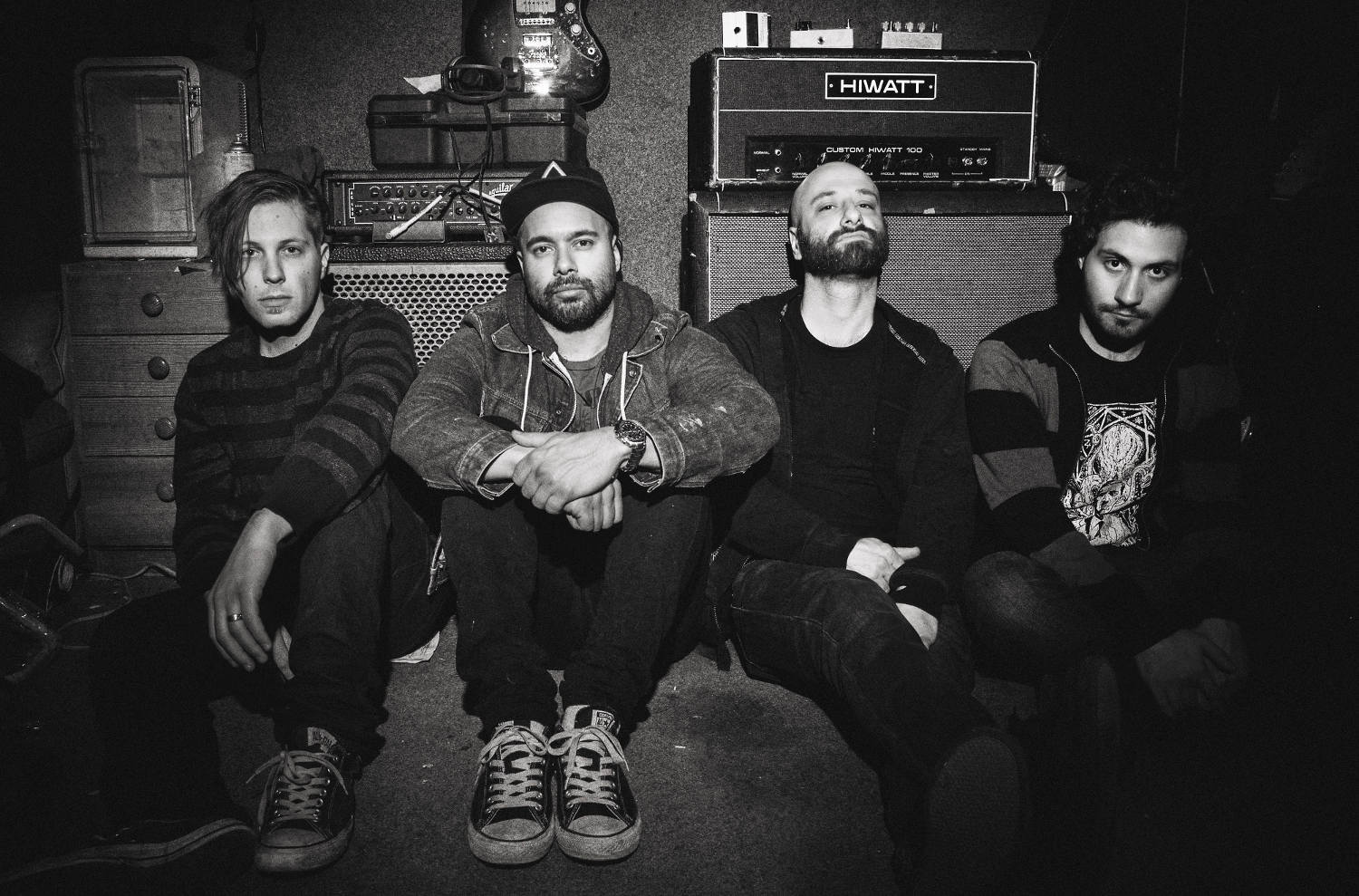 and worst of times.
It was at this point in his life that Portoghese spent years directing music videos for "vapid pop stars" that preferred being surrounded by "tits and ass," rather than a deeper plotline. Sure, his videos were getting lots of airtime on MuchMusic and the phone kept ringing with new opportunities, but internally Portoghese resented many of those he felt like he had to work with – Sam Roberts Band, The Darcys, and PS I Love You, being the few exceptions.
As Portoghese struggled to tolerate his profession, he began writing music about his frustrations. Some of these efforts – which are now six to seven years old – appear on The Dying Arts' 2014 Self-Titled EP.
However, getting to that EP didn't involve a straight line. Instead, it came about after the band began to wind its way through the tough-to-crack Toronto music scene and spent two years on an album that would eventually be scrapped.
"I feel like we almost broke up at the time we shelved the record, which would've been about a year ago," says Portoghese during his conversation with Riffyou.com. "We spent almost two years recording this thing and it was so demoralizing to make the decision to not release it. It was also a big 'fuck you' to our friend who recorded it, because he spent so much time on it. It was really bad for everybody.
"Within a week of finishing the EP," he continues, "we knew it was the right move to shelve the album."
For Portoghese, the EP's raw, to the point, feel represented the band – which also includes Simon Poole (bass), Joe Torchia (drums), and Daniel Scuglia (guitar) – better than the textured, slick, perhaps even overly-produced full-length: "When you record something really quick [like the EP], you don't have too much time to dwell over it and there's an energy to it…there's some life.
While Portoghese has long been overtly confident about what The Dying Arts has to offer (which some say includes a nice mix of Nirvana and Fugazi tendencies), what proved to hinder the band's earlier development was its inability to get gigs in their hometown of Toronto.
When thinking about that, Portoghese says that only those included in the scene feel as if it's an inclusive one – that's mightily frustrating for a band that thinks it has something great to offer audiences.
Like many acts trying to crack the scene, Portoghese recalls those gigs with just five attendees and a bartender that thinks the band is "fucking awesome." But after relentlessly gigging and receiving a push from some industry friends, The Dying Arts have signed on with The Agency Group booking company and are discussing deals with multiple labels.
Despite the evolution of his band's fortunes and his dissipating bitterness, Portoghese hasn't forgotten the days in which many in the Toronto music community shunned his band.
"I hate Toronto because it's so fucking cliquey here," asserts Portoghese. "As much as there are a lot of people being very nice to us now, they weren't before, so we didn't get many chances to play bigger shows…opportunities were tough to come by. But, now it's sweet to get them, because that's all we needed: a chance to play in front of [more] people and have them decide whether they like us or not.
"As much as it makes sense to smile, be gracious and not complain, I'm happy to say 'Fuck that, it was rough for us' – just like many other bands. I have no problem saying 'Fuck you Toronto.'"
-Adam Grant
Please be sure to follow us on Twitter @riffyou and at Facebook.com/riffyou.