Interview: Kaiser Chiefs Kick Away the Crossroads

After the life of its fourth album The Future is Medieval (2011) drew to a close, Kaiser Chiefs hit a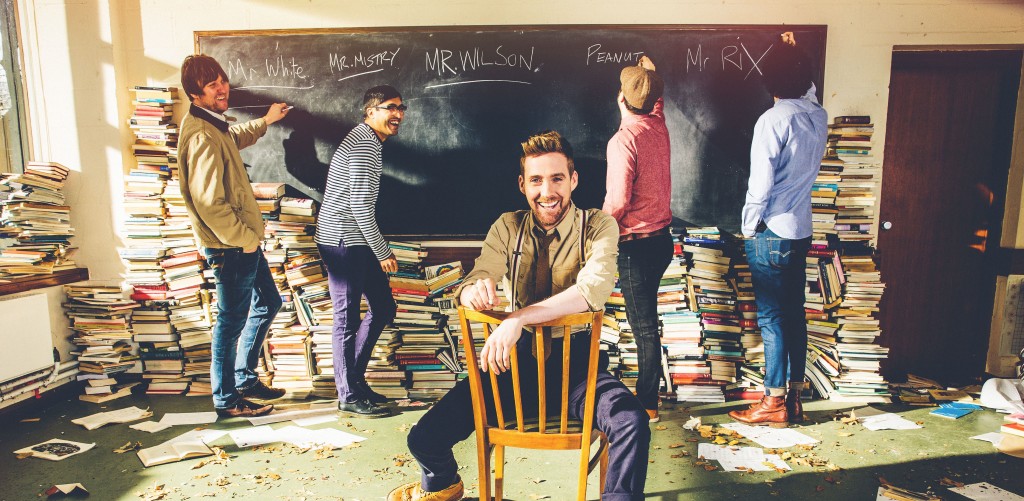 crossroads. The band had been working frenetically since its surprisingly successful debut, Employment (2005), having released four albums in six years, leaving the UK rockers very much drained. Something else was wrong, however: drummer and primary songwriter Nick Hodgson was leaving the group.
It was at this point that remaining Kaiser Chiefs members Ricky Wilson (vocals), Andrew White (guitar), Simon Rix (bass) and Nick "Peanut" Baines had to decide if their band could, would, or should carry on.
"When Nick left, that was a sink or swim scenario…that made us [look at each other] and go, 'Do you still want to do this?' We definitely [felt] that we had more records in us and something about that situation made us come out with the energy that we missed for a couple of years," offers Baines while in conversation with Riffyou.com. "That was stronger than anything we could've said to each other."
With regards to that energy, Baines explains the "machine" that is the music industry played a large role in bringing a usually up-sounding band, down.
"There's so much going on in the machine: writing a record, going on tour for 18-months, finishing it, having a holiday, then writing a new record. Sometimes you need to get focused," he says. "[When making] your first album, no one's expecting it, no one knows who you are. Then all-of-a-sudden you're in this cycle of needing to make a new album, then needing to go on tour. It all becomes very planned without realizing it. In the music industry, you just get a little bit lost because no one gives you a guidebook when you start in it."
Baines is quick to point out, though, that after an initial "wayward" writing session during the post-Hodgson era, Kaiser Chiefs began to find its way back. Unlike previous albums, what became 2014's Education, Education, Education & War was a collaborative experience where the band – which now includes drummer Vijay Mistry – rediscovered how to become a creative collective once again.
Adds Baines: "I think it's a shame that we couldn't get there with Nick, but I'm equally glad with where we are now."
The end result, explains Baines is an album that not just focuses on war in a traditional sense, but also the battles and struggles that it took for Kaiser Chiefs to find its footing once again.
As described in an April 2014 review by Riffyou.com, Education, Education, Education & War, Kaiser Chiefs managed to push out a "defiant, hooky, lyrically-inspired album that takes a number of anti-war stances; preaches independence; and celebrates bouts of solidarity."
Currently, the solidarity within Kaiser Chiefs remains intact. Recently, the band released a new song called "Falling Awake," an upbeat track that's accompanying video shows the band living the dream while on the road. Seen throughout are smiling faces of a group of guys seemingly up for the next phase of their careers.
"The doubt [about the band's survival] was introduced by people speculating, not ourselves," contends Baines. "We decided to continue on…. obviously then, the process had to move forward."
-Adam Grant
Please be sure to follow us on Twitter @riffyou and at Facebook.com/riffyou.