Interview: Less Than Jake Go Long and Get Positive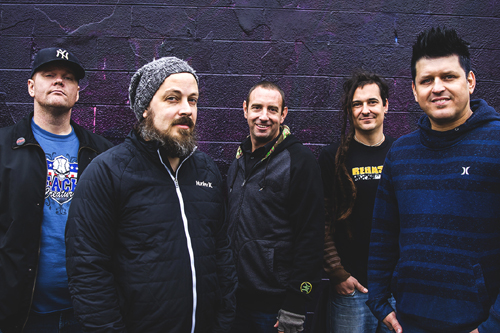 Florida-based ska-punkers Less Than Jake really, really never meant for this 20+ year career to happen, contends band vocalist/guitarist Chris DeMakes.
'In the early days, we thought maybe we could do a 7" record and maybe we could play for our friends at a party or the bar up the street," he says. "One project led to another project, then we booked a tour and that led to another tour, then we started making friends with other bands…everything kept snowballing and it literally happened in the blink of an eye. I don't know where the last 21 years went."
In that blink, Less Than Jake has assembled a releases list that reads as long as a grocery list for a house of six, the latest of which is 2013's See The Light. Put out through Fat Wreck Chords, the quintet – Roger Lima Manganelli (bass, vocals), Vinnie Fiorello (drums), Buddy Shaub (trombone), Peter "JR" Wasilewski (saxophone) and DeMakes – have struck an optimistic chord with this offering, as the body of work offers equal amounts hope, encouragement, empowerment, and of course, danceability.
"Everyone should have their own opinion about what they feel the album gives to them, but to me it signifies hope and a new beginning," relays DeMakes when Riffyou.com asks for his impressions of the album. "Without sitting down and saying 'hey, we have write a really positive album,' it naturally happened."
What likely helped with the album's tone was the group's decision to truly bring the operation in-house. Although DeMakes cites positive experiences with producers Rob Cavallo (Green Day, My Chemical Romance) and Howard Benson (Kelly Clarkson, Santana, Three Days Grace) and praises the knowledge those fellas brought to Less Than Jake, he felt that the group was more than capable of taking over production duties.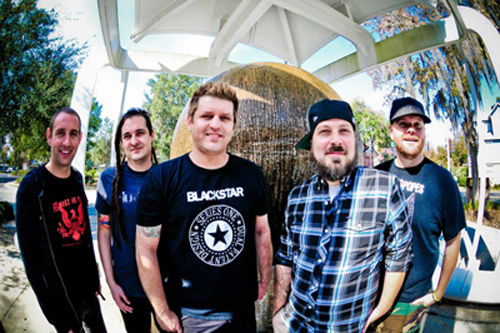 More specifically, Manganelli took on the primary producer role as the group entered his in-home Moathouse studio to get down to business. The process, reflects DeMakes, did bring its challenges in the form of an outside mediator not being in the room, but ultimately went well thanks to the band members' mutual respect for one another.
"Roger was at the helm and produced the record, but there was still four other guys in the band that had opinions," he explains. "We have a really good working rapport with each other – we've been doing this a long time. We know each other's capabilities and limitations, and you work within those confines. We have our own little formula with that. There were times [with this album] where we had disagreements, but there were never any full-blown arguments or someone tossing a guitar across the room because they were pissed off."
To promote See The Light, Less Than Jake enlisted their friends – including members of NOFX, MXPX, The Mighty Mighty Bosstones, Bad Religion, Reel Big Fish, and Zebrahead – to film themselves lip-syncing along to the single "My Money is on the Long Shot." That footage was subsequently compiled and edited into a fun montage in which DeMakes views as the group's best video to date. Not bad for something that cost $0 to make. You can check out the video below.
-Adam Grant
Recently, DeMakes took part in our Five Important Questions feature. Click here to see his very important answers.