Interview: The Mahones and A Little Help from their Friends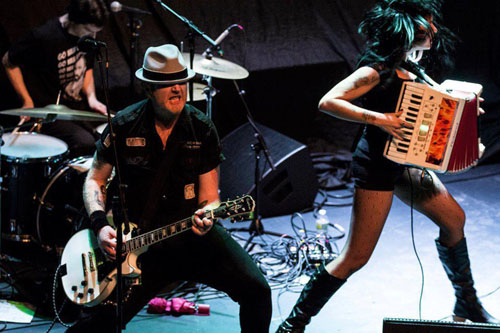 For a man who believes that he has more touring miles on him than anyone else, and sports a range of road-related injuries from carpal tunnel and tendonitis in both arms to arthritis in the right hand and shoulder, The Mahones' frontman Finny McConnell is a rather optimistic dude.
And why shouldn't he be? McConnell's on the verge of celebrating the Irish punk act's 25th anniversary next year, but at this moment is cherishing the fact that his band is without a record deal and free to release new music at will.
Due February 11, The Mahones will issue their first live album (through their own label Whiskey Devil Records) since 2003's Live at The Horseshoe. The forthcoming offering, A Great Night on the Lash (Live in Italy) is 19-tracks, clocking in at a whopping 79 minutes and 12 seconds. The bulk of the album features selections from the band's set at the 20th anniversary of the Rock im Ring Festival in Bolzano, Italy. There's also a trio of studio-cut covers here, including the Ramones' "I Wanna Be Sedated," performed with Belfast punk act, The Defects.
"I knew on the Angels & Devils tour that I was going to record The Mahones at some point somewhere and was just keeping my eyes open," says McConnell when discussing how this album came together. "When we arrived in Italy for the festival, I noticed that the equipment was good, the sound check sounded great, and I really enjoy the fans in Italy. It was perfect, so I recorded the show.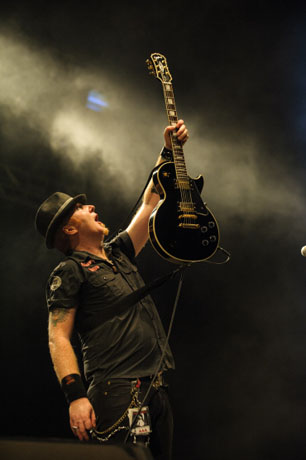 "I didn't want to tell the band [I was recording] because I didn't want them to start mulling over ideas about doing this or that," he adds. "If you don't know, you just play naturally. I told them after: 'by the way, I recorded that show.'" [laughs]
Even with A Great Night on the Lash just about ready to go, McConnell and company – Dom "The Bomb" Whelan (drums, vocals), Katie "KaBoom!" McConnell (accordion, vocals), Sean Winter (banjo, harmonica, vocals), Eryk "Chainsaw" Chamberland (bass, vocals), Michael O'Grady (tin whistle, vocals)
Jonnie Mahone (mandolin, vocals) – are already moving onto their next studio album, The Hunger & The Fight.
Conceptualized by his wife Katie, McConnell wrote the double-album on days off during last summer's European tour. It too is looking beastly in size, with 21 songs planned.
"I wanted to do something big that hadn't been seen before in the Irish punk scene. It's kind of like our own Quadrophenia (by The Who)," explains McConnell. "I have so many albums, and just wanted this one to be different."
Instead of touring the band's brains out to fund The Hunger & The Fight, The Mahones have opted to go the route of fundraising. On the band's official website, they are selling off items and experiences as a way to build the album's budget. Contributions can land supporters copies of the album; autographed merchandise; stage-worn pieces of band wardrobe; as well as McConnell writing and recording a song about you; and The Mahones playing a gig at a person's event or house party. There are many rewards, shows the website, while McConnell confirms that incentives will change as time rolls on.
When discussing this endeavour, McConnell's voice reaches a truly enthusiastic tone when describing one night when a fan nice enough to donate some coin joined the band upon the stage for a rendition of "Drunken Lazy Bastard." This instance helped prove the awesomeness of this fan-involvement initiative.
"I wouldn't have done [the fundraising] before, because at first I thought that it looks like you're asking for a handout," relays McConnell. "But, as bands came up with better ideas [on how to do it], I became willing to do it…as long as we had good stuff for fans who participated.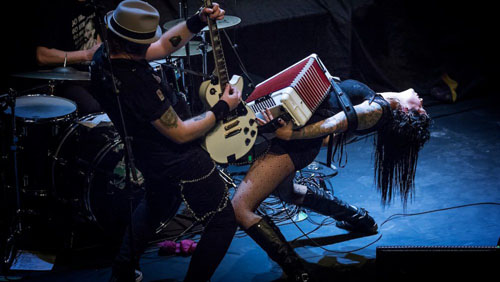 "I think it's the way of the future," he continues. "Basically, we're testing the waters with this, but with all of the tools we have now – like iTunes, Facebook, Twitter, and YouTube – all we really need to do is raise some funds to pay for the cost of recording. If you can do it this way with the participation of the fans, man, it could totally be the future of recording and releasing albums."
As for the distant future, McConnell sees that time being spent with The Mahones. When asked if he ever thought this band would rage on for as long as it has, McConnell explained that he never had any doubts.
"I never had a backup plan to being a musician – [I planned] to be a musician to make records and tour the world…that's that," he says. "There was never a plan B. Any band I've formed, I never thought would stop. This band, definitely, when I formed it I knew it could be a band I could grow old gracefully in. I want to play in The Mahones until I'm 75, then I'll stop and retire to the countryside of Ireland." [laughs]
-Adam Grant
Stay tuned for a full-review of A Great Night on the Lash, along with Finny McConnell's guide to making it as a band. Man, does he have a lot of excellent knowledge to share!
Please be sure to follow us on Twitter @riffyou and at Facebook.com/riffyou.