The Friday 5: Five Important Questions with The Creepshow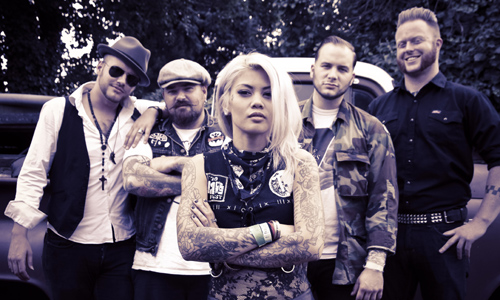 On October 21, Toronto, ON, Psychobilly punk act The Creepshow released their astounding new record, Life After Death. Along with its high-energy, fist-pumping qualities, the album also featured brand new frontwoman Kenda Legaspi. You can learn more about her arrival in an interview we published with the band back in December.
We also used that chat to ask The Creepshow's Sean McNab five really important questions. Here is how that turned out:
What is your favourite place to play a guitar?
"Onstage. That's the only time I ever play it." [laughs]
What is your favourite pre-show meal?
"A burger. I get it with lettuce, tomato, and lots of pickle. I'm addicted to pickles."
What album gets you out of a bad mood?
"One of my favourite albums of all-time is Rancid's …And Out Come the Wolves. Everything about it is perfect. When a song ends, I know the next song coming up – I know every word. That album for me is perfection."
What band inspires you?
"I'll go back to Rancid. I've followed the band from the beginning. It's just cool to see a band go from zero to being huge, but never really changing their ideals and style. They're just so good. Another inspiring band is Rise Against. I'm not so much into their music anymore, but one of my old bands did this Snow Jam tour with them and nobody knew who they were. They put out a couple of records and toured their balls off playing to 100 kids a night. They worked super hard and eventually got massive. They're not one of those bands that formed, got a manager, got a label, put out a record, and got huge. They worked really hard for that."
Who is your biggest fan?
"There are people who have our lyrics and logo tattooed to themselves – that's pretty crazy and super cool. I never thought I'd be in a band and someone would get a tattoo of our logo."
The Creepshow are currently on tour across the U.S. View their tour dates here.
Please be sure to follow us on Twitter @riffyou and at Facebook.com/riffyou.