Interview: The Creepshow Gets a Renewed Lease on Life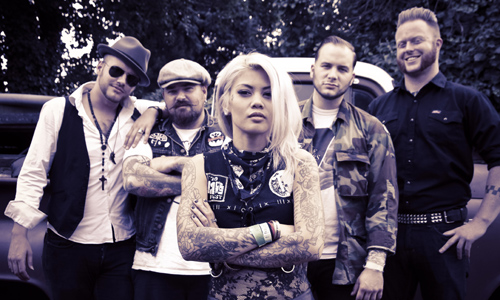 On July 16, 2012, Burlington, ON, psychobilly stars The Creepshow found themselves in a familiar position: saying goodbye to a lead singer with the legal surname Blackwood. This time, it was Sarah "Sin," the sister of the band's original vocalist Jen "Hellcat," who was on her way out.
In an announcement posted upon the official Facebook page of The Creepshow, the band cited Sarah's burgeoning solo work and her growing role in Walk Off The Earth as the reasoning for a change.
"I remember when announcing [the member change] on Facebook…I was shaking," laughs Sean "Sickboy" McNab, the band's bassist and co-founder, without providing an ounce of sarcasm. "We've done it all before, but I was a little bit scared."
When speaking on the subject of lead singer ousting, McNab describes the push and pull effect that comes with it: there's the backlash that leads to the departure of once dedicated fans; people getting "bummed" out but eventually coming around; and those who are brought into the fold because of the new singer. Then there are those that would rather see an end over a new beginning.
"A lot of people don't like change, and a lot of people don't know what it's like unless you're in a band and touring," explains McNab. "[Keyboardist Kristian 'The Reverand'] McGinty [Rowles] and I started the band in 2005 and it's been almost 10 years that we've put into it. If someone else moves on to something else, why should we have to [end it]? For us it makes sense – we'll get a new singer and keep doing what we're doing. Those not in such a position don't get it – they think you should stop."
The second part of The Creepshow's July 16, 2012 announcement introduced the world to their new frontwoman, Kenda "Twisted" Legaspi, who was recommended to the band by friend Benjamin Rispin of The Video Dead and The Saint Alvia Cartel. McNab recalls watching her performances on YouTube and getting immediately excited.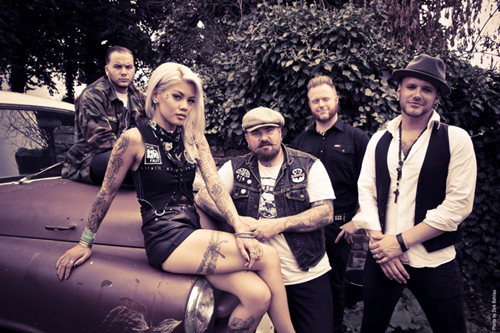 When the band – which also features Sandro "Blood" Sanchioni (drums) and Daniel Flamm (guitar) – held the auditions shortly thereafter, McNab notes it took all but 15 seconds of performing with Legaspi to know that she was it. Once that song came to an end, Legaspi was welcomed into The Creepshow and told to pack her bags. It was time for a European tour.
By early 2013, the band found themselves in the studio recording what would become their fourth full-length, Life After Death. Released through Stomp Records in Canada on October 21, the album is packed with high-energy, ass-shaking rock n' roll wrapped around themes of love and horror. If there were ever any training wheels slapped upon Legaspi at the outset of her time with The Creepshow, the album proves that they were quickly smashed and lit a flame.
"She has a grittier, smokier voice compared to our previous singers," offers McNab. "She also brought a couple songs to the record that sound different than our older stuff, but still similar [enough]. She is also an amazing person – super-caring and super-fun to be around. She never complains, she sleeps in the van sometimes…which is awesome. You can tell when we're playing now that we're all really happy and having an amazing time. She's brought a new life to the band."
McNab and the bunch have recently put a close to their touring schedule for the year, but are slated for a month-long U.S. run that begins in January. During the jaunt, The Creepshow will share stages on some of these nights with the likes of The Reverend Horton Heat and Nekromantix.
-Adam Grant
The tour dates are as follows:
Jan 14, 2014 Grand Rapids, MI @ Pyramid Scheme
Jan 15, 2014 Green Bay, WI @ Crunchy Frog
Jan 16, 2014 Minneapolis, MN @ Mill City Nights
Jan 17, 2014 Chicago, IL @ House of Blues
Jan 18, 2014 Detroit, MI @ Majestic Theater
Jan 19, 2014 Buffalo, NY @ Tralf Music Hall
Jan 21, 2014 Long Branch, NJ @ Brighton Bar
Jan 22, 2014 Providence, RI @ Fete Lounge
Jan 23, 2014 Boston, MA @ Royale
Jan 24, 2014 New York, NY @ Irving Plaza
Jan 25, 2014 Philadelphia, PA @ Trocadero Theatre
Jan 26, 2014 Washington, DC @ 9:30 Club
Jan 28, 2014 Virginia Beach, VA @ Jewish Mother Hilltop
Jan 29, 2014 Atlanta, GA @ Masquerade
Jan 30, 2014 Orlando, FL @ Will's Pub
Feb 01, 2014 Vero Beach, FL @ Flithy McNastys
Feb 02, 2014 Fort Lauderdale, FL @ Kreepy Tiki Lounge
Feb 04, 2014 Pensacola, FL @ Vinyl Music Hall
Feb 05, 2014 New Orleans, LA @ Siberia Bar
Feb 06, 2014 Memphis, TN @ Young Avenue Deli
Feb 07, 2014 St Louis, MO @ Old Rock House
Feb 08, 2014 Indianapolis, IN @ Melody Inn
Feb 09, 2014 Cleveland, OH @ Now That's Class