Q&A: The Pack AD is Ready to Engage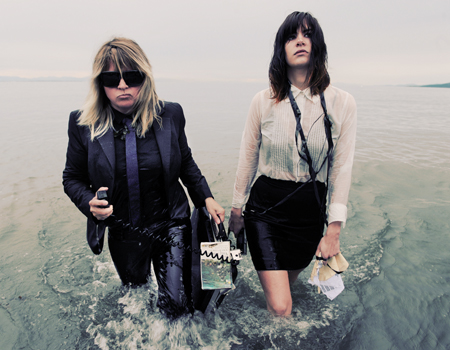 Success for Vancouver, BC-based garage-rockers The Pack AD – Becky Black (vocals, guitar) and Maya Miller (drums) – didn't arrive quickly. Having emerged in 2006, it was until their fourth album, 2011's Unpersons, that the band began to have any sort of mainstream presence.
Their hard-driving, catchy-as-all-hell single, "Sirens," developed significant rock-radio presence, helping land the duo not just a larger following, but also a 2013 JUNO Award nomination for Breakthrough Group of the Year.
Now, Black and Miller are back with their fifth offering, Do Not Engage, set for release on January 28, 2014 through Nettwerk Records (preview four tracks here!).
Riffyou.com had the chance to catch up with Black at an hour too early for egg nog to discuss the album, as well as a stage exit that led to a lengthy emergency room visit.
RY: You're on the verge of releasing a new album in January. How do you feel about it as this point?
Becky: "It's really hard to judge your own work. We recorded in the summer and winter of 2012, so at this point it feels like it's been a lot of time and I'm ready to record a new album. In a way, it's weird that we're releasing it so late, but I do feel good about it."
RY: Why was there that significant hold up?
Becky: "We wanted to release it sooner. But, we recorded it on our own dime and then began shopping around for a label, so everything happened a bit later."
RY: I see that you had Jim Diamond [The White Stripes, The Mooney Suzuki] produce this album. With his experience with a two-piece like The White Stripes, does he have a special ability when it comes to producing a band like yours?
Becky: "I think he likes two pieces. It is funny, though, because he is a bass player. So I always find it funny that he likes two pieces. He has really good ideas and we feel really copasetic with him."
RY: Your last album Unpersons got your band a lot of mainstream attention. Does having such attention change how you go about your band?
Becky: "I kind of wish it didn't, but it does affect you. You're not necessarily thinking about the songs you want to write, but sometimes you're thinking about what people might want to hear. When you're in a position to sell your art, you want to know what people want to buy. It definitely changes you, but I try not to let it. I think art should always be about making it for yourself first and foremost…then it's more true."
RY: I read that you were injured rather badly at a show recently. What happened?
Becky: "It was in L.A. and I was standing on the drum kit. I lost my balance and fell off the side of the stage. I hit my head and twisted my neck pretty weirdly. I wound up having a pinched nerve and a herniated disc. Looking back it's kind of funny, but it wasn't at the time." [laughs]
RY: Were you able to get right back up, or were you down for the count?
Becky: "Fortunately, it was near the end of the show – essentially the last chord. So, it was kind of like, 'ta-da! The end!' But I did get up and was fine. Maya was concerned and said we should head to the hospital. So, we spent seven hours in a downtown L.A. hospital. It could've been so much worse."
The Pack AD is hitting the road beginning the end of January. However, you can catch them ahead of that on December 19 in Toronto, ON, as they'll open for Cage The Elephant at the Sound Academy.
Below, check out the video for Do Not Engage's lead single, "Big Shot."
-Adam Grant