Weird! Nirvana & Kiss to Enter Rock Hall Together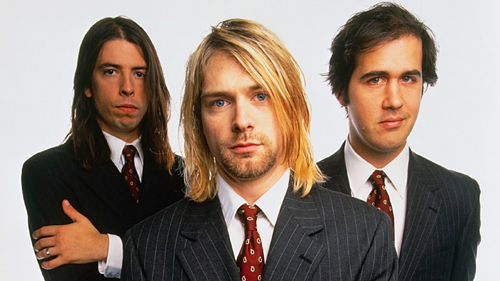 The Rock and Roll Hall of Fame announced its 2014 induction class, a group that is as diverse as it is long. Entering together will be musicians Cat Stevens, Hall & Oates, Nirvana, E Street Band, Kiss, Linda Ronstadt, and Peter Gabriel, as well as legendary artist managers Brian Epstein (The Beatles) and Andrew Long Oldham (The Rolling Stones).
While it's an old, tired trick to sit and wonder what Kurt Cobain would think of something had his life not come to an end in 1994, this is one of those instances where such a pondering is warranted.
Cobain's premature exit from this world has been blamed on a number of things: drugs, Courtney Love, and too much success and pressure for someone who supposedly never wanted either of the latter. Depending on who you ask or what you read, some believe that Cobain wanted to be a rock star, but wound up getting more than he could handle. Thus, the drugs were shot and the trigger was pulled.
Let's say Kurt Cobain really, really hated the whole idea of 'rock star' and all that it entailed. With that ground rule established, it'd be fair to assume that Cobain would've truly hated entering the Rock and Roll Hall of Fame…with Kiss.
Throughout their decades of existence, Kiss has become – according to the mighty words of bassist and chief marketing officer Gene Simmons – a rock brand, not a rock band. Had Cobain not had other reasons for (allegedly) killing himself, I'd imagine such a perspective uttered aloud would've helped grease up the shotgun a little faster.
Add in the over-the-top stage theatrics, womanizing, costumes and being a bunch of elder dudes that still pile on pounds of makeup before each gig, I'd imagine that Cobain would've shuttered at having to share a spot at an induction ceremony with Simmons and Co.
Then again, one would've hoped that as Cobain grew older and wiser, he would've mellowed a bit and developed a more level perspective on what it meant to be a 'rock star,' and would've appreciated this moment. Maybe he would've shared vocals on "Detroit Rock City" at the ceremony. Perhaps, he would've donned the kiss makeup for his own performance.
While it'll be fantastic to see Dave Grohl and Krist Novoselic wave the Nirvana flag when the band officially goes in next year, it'll be tough not to sit there without the "what ifs" in mind.
-Adam Grant