Interview: Me First and the Gimme Gimmes Get Girly

It takes a real man to explore his feminine side, be it through music or otherwise. Proving this point with a well-placed
exclamation point is Me First and the Gimme Gimmes on their latest tribute album, Are We Not Men? We Are Diva!
Laced with 12 diva-performed tracks that range from Paula Abdul's "Straight Up" to Celine Dion's "My Heart Will Go On," the guys – Spike Slawson, Joey Cape, Chris Shiflett, Fat Mike, and Dave Raun – have let their hair down on what is the band's first full-range foray into tracks made famous by women…with perhaps the exception of Boy George and his Culture Club track, "Karma Chameleon."
"Hey man, I'm pretty sure that guy's a diva!" states an enthusiastic Cape while on his way home from the annual Punk Rock Bowling festival. "Elton John is too, but we've already done several Elton John songs. Boy George was right next in mind."
The easy assumption with this album would be that the band is taking well-placed shots at songs that may be gloriously well-written, but super-cheesed up due to the reputations and performances provided by those who sang them before.
Take for instance "I Will Always Love You," which was originally performed by Dolly Parton, but made abundantly famous by Whitney Houston and the its inclusion on The Bodyguard soundtrack. While the sentiment of the song is very universal, it, as well as Houston's video for it, might as well have been covered in a generous serving of Gouda and Havarti.
But here, the Gimmes give it a more endearing fresh take.
"For the most part, I like everything that we do. I'm a fan of songs. I like pop songs," admits Cape when asked if these diva songs are actually respected by he and the band. "I grew up listening to all kinds of super cheesy pop when I was kid…everything that arguably has great integrity like The Beatles, to cheesier things by John Denver, Barry Manilow and Neil Diamond. I like the songs.
"The one really cool thing about this band is that [we offer] great translations."
When discussing the process in which the band undertakes on its albums, Cape says that it's very simple thanks to their firm "no work" motto. He says that if a song isn't going well for them in 15 minutes, it'll be scrapped and another will be toyed with.
"There's literally so little effort that goes into our records," admits Cape. "And, I think that's part of the reason why they're so cool. In a way, they have something that our other bands (NOFX, Lagwagon, Foo Fighters, etc.) might not have."
Even though the work put in may be modest when the Gimmes get together, that's not to say that there isn't any accidental preparation going on. As a parent of a 10-year-old girl, Cape has been exposed to a wealth of music that he may not have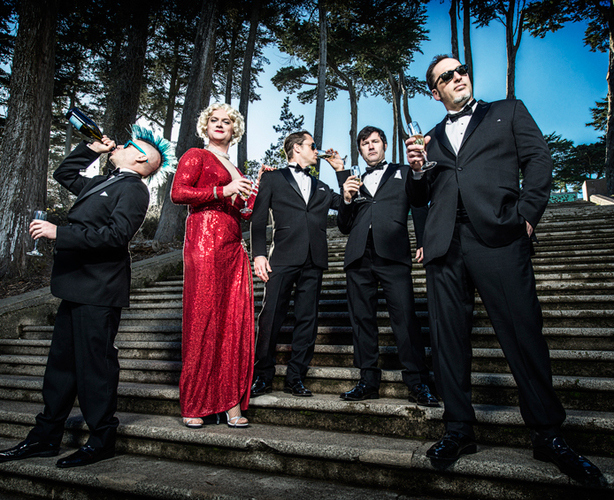 otherwise.
So when Riffyou.com asked Cape if he'd rather make an album of Christina Aguilera songs or Celine Dion songs, the choice was simple: thanks in a large part to his kiddo.
"Oh, Christina Aguilera, because she has better songs," says Cape. "I think that Celine Dion's songs are great songs, and I know [me saying that] is going to bum some people out. But I wasn't one of the ones that suggested "My Heart Will Go On," for the album. I just showed up at the studio one day and there it was," laughs.
"That song "Beautiful," (which is on the album) is a song I've always loved. The funny thing about having a 10-year-old daughter is that she listens to stuff like Lady Gaga. I probably would've never listened to her. I remember when my daughter showed me that song "Beautiful." She said, 'dad, is this a good song?' And I said, 'yeah, this is a great song.'"
Catch Me First and the Gimme Gimmes this weekend at the Amnesia Rockfest in Montebello, QC. You can view the full schedule here!
-Adam Grant
Please be sure to follow us on Twitter @riffyou and at Facebook.com/riffyou.