Interview: Mounties Keep the Buddy Vibe Alive

Rock n' roll isn't always glamorous: sometimes there are days when a great backstage encounter ends with a sewage truck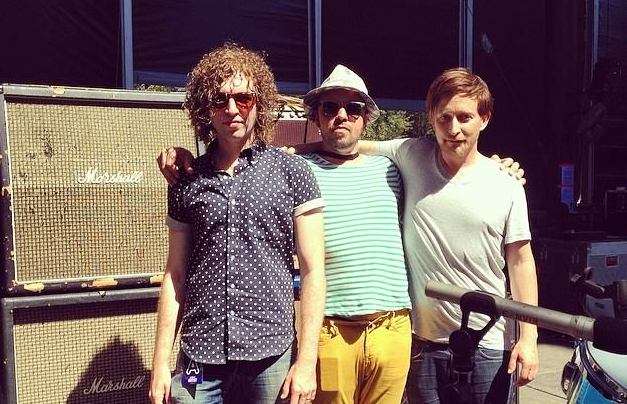 rolling by and a massive lightning storm cancelling out the final few hours of a music festival.
While the latter two felt like rather shitty situations to experimental-rock group Mounties and the Riffyou.com team, what proved to not be such a shitty situation on this day was the band dynamic between founders Hawksley Workman, Ryan Dahle, and Steve Bays.
Sitting around a makeshift picnic table at the Hillside Festival in late July, the camaraderie previously explained to us by Workman many months earlier is witnessed and perhaps even better than expected.
"It is kind of late in life to again go out on the road and play with a rock band again. I didn't really see that in my future. It was a surprise, but I'm enjoying every second of it," confides Dahle ahead of Workman and Bays' arrivals. "This is kind of like a travelling dinner party. These are the guys I'd invite to my house for dinner, but here we are playing music and going places. We're really lucky."
"Going places" is an easy phrase to attach to a band that's core elements have already been places creatively. Workman has been a renowned solo artist for a long time now; Bays made his name by fronting Hot Hot Heat, while Dahle is easily recognized for his work in The Age of Electric and Limblifter. However, their 2014 debut, Thrash Rock Legacy, has allowed the guys to find some space between their pasts and their now.
If you were to step into Mounties fresh – without being aware of where its working pieces came from – you'd be convinced that some sort of undiscovered, maybe even unchartered experimental rock circus had just fallen into your lap. At first you wouldn't be quite sure what to do with it, but eventually you'd just settle down and realize how damn cool it is.
"We treat it with a lot of respect," says Dahle of the band's creative prowess. "It's not often that you fall into a situation where it clicks so incredibly. You sit with these other two producers (Workman and Bays) and you make music without even talking. That's the beautiful thing – we're not pre-meditating anything. We're arriving empty-handed and then just creating out of our heads. Then, the next guy's tapping you on the shoulder because he has another idea, so for us, this couldn't be any better, because it couldn't be any easier or rewarding."
Some of the rewarding moments listeners have been exposed to are radio-friendly offerings like "Tokyo Summer," and "Headphones," the latter of which Workman is convinced needs to become a "hit" somewhere in the world, at some point.
When discussing their newfound musical resurgences, it's evident that what Workman, Dahle, and Bays are going for here is a place to call their own…all the while not fucking up what works.
"We do talk about being the AC/DC of Canadian rock where we don't chase new sounds," says Workman, in a maybe, maybe not joking tone. "I've been terminally possessed by trying to do something new, so I've made 15 albums that piss off 35% of my fan base because it wasn't what they wanted. If Mounties was only ever sonically where it is [now], I think I'd be totally happy with that. Like a Led Zeppelin or an AC/DC: why would you want to fuck with something that's already good?"
Adds Bays: "We'd be silly if we put out a break-beat album now."
With the festival season winding down, Mounties are already focused on what's next. At the time of our conversation, the guys were about to head back to a stack of 50 songs that they had in various stages of completion. Many of which, notes Dahle, were conceived in the sessions that led to Thrash Rock Legacy, an album that critics enjoyed enough to hand a Polaris Music Prize Long List nomination to.
In terms of the next release's timing, that is all up in the air as the men in Mounties have other responsibilities to tend to outside of the band. If they didn't, relays Workman, they'd likely put out an album a week.
"I still feel very reverent about it," notes Workman of the band. "You don't expect to have these breakthrough experiences once you get out of your twenties. The music business is so skewed towards it being a beauty contest that the mythology [now says that] you're supposed to die at 27 and leave a beautiful corpse. So, for a lot of older guys, to still feel super vital and energized [is great]…because there are very few role models. Maybe Neil Young, but he isn't necessarily a role model [for that] because he hasn't done anything very good in a long time. Who is doing something good?
"As band guys, we're trying to stay in this young lane," he adds. "I think we were all ahead of the curve in our first go around in this business. I think we all were just a little bit ahead of everybody. I still think we're ahead of everybody – not in an arrogant way, but none of us like idiom. I am so skeptical of idiom."
Be sure to catch Mounties at Riot Fest Toronto at Downsview Park on Saturday, September 6. They play the Roots Stage at 12:40pm. See you there!
-Adam Grant
-Photo found at Facebook.com/mountiesband
Please be sure to follow us on Twitter @riffyou and at Facebook.com/riffyou.