Interview: Mustard Plug and Their New Reality

With many, if not every band, priorities do change over time. This isn't a bad thing. Life happens; the state of the music industry flip-flops;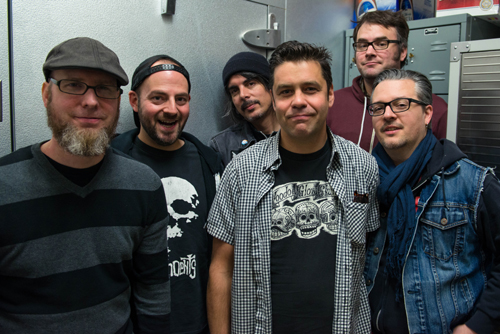 and dreams don't always stay the same. These are just things that you have to roll with. For long-time Michigan ska/punk collective Mustard Plug, the latter is a perspective that the sextet is facing and embracing today. Emerging in 1991 not too far before ska really smashed into the mainstream, the band has managed to survive and thrive in one form or another ever since.
In January, the band – Dave Kirchgessner (vocals), Colin Clive (guitar, vocals), Rick Johnson (bass), Nate Cohn (drums), Jim Hofer (trombone), and Brandon Jenison (trumpet) – released their seventh album, Can't Contain It on No Idea Records. It's been seven years since Mustard Plug's last album, Black & White, which in today's go-go-go culture seems like decades ago.
"We're not really a full-time band," admits Johnson just ahead of the band's trek into Canada for dates at Toronto's Lee's Palace and Pouzza Fest in Montreal. "We maybe get together once a week for three hours. Sometimes an hour and a half of that is talking about business, and we'll play for maybe 45 minutes. People have things going on. With this band, it's either writing mode, or show mode."
Johnson further explains the fact that band members are now fathers and have other jobs to pay the bills brings forth challenges. Then there's being based out of the Midwestern United States, which Johnson says doesn't make show and festival playing further abroad an easy, feasible endeavour.
That said, Mustard Plug has opted to keep fighting the good fight. In addition to recording Can't Contain It independently in Johnson's home studio, the guys also put the fate of the album into the hands of actual fans.
Like many bands before them, Mustard Plug launched a Kickstarter campaign as a way to get their music directly into the hands of appreciators. Initially, the hope was to raise $12,000, but generosity led to a closing total a little north of $25,000.
While not too shabby, Johnson – unlike many of his peers – does not see this crowd-funding strategy to be a saviour for musicians attempting to maintain a career.
"The music industry is so weird right now," offers Johnson. "I don't know if it benefits you to have a new record. Maybe press outlets will cover you a little bit more, but people aren't forgetting about you as much because information is so readily available [online].
"It's cool that [Kickstarter] is a viable option, but the way we looked at it was to give fans a way to pre-order the record. You're still not selling records [because of it]," he adds. "It seems that people are more willing to pay for something up front to help you create it, than to pay for it once available. It's cool because the album's out, but I don't foresee that business model being sustainable for long-term financial gain. The album is out, but you're still not making money off of the album because people aren't necessarily buying it."
As for the final product, Johnson – with pride evident in his voice – says that he "couldn't have hoped for anything more." It doesn't hurt that reaction to it thus far has, by and large, been pleasant.
Moving forward from here, Mustard Plug is going to continue to do what they do: play shows and record when they feel like it. Delusions of grandeur won't be found in this band. Instead, what you'll see is a group of guys going forward on a joyful, realistic path.
"We do everything just for the experience of doing it," concludes Johnson. "I don't think anyone has any aspirations of becoming rich and famous anymore"
-Adam Grant
Please be sure to follow us on Twitter @riffyou and at Facebook.com/riffyou.