Interview: PUP Go Off the Leash & Into New Territory

When PUP arrives this weekend at Riot Fest Toronto (Sunday, September 7 at 2:30pm on the Rock Stage), it'll be a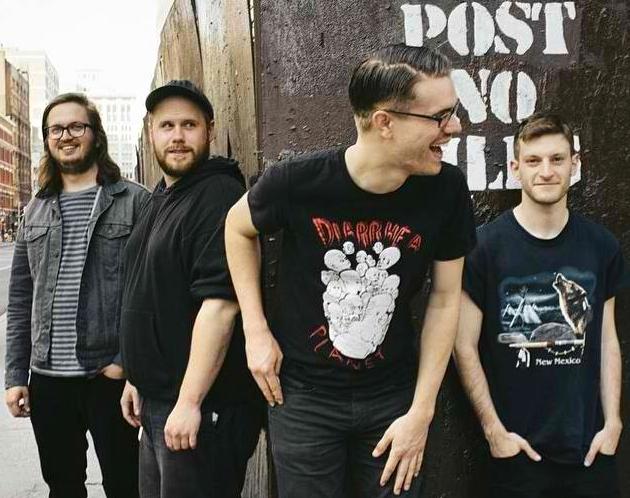 homecoming for a burgeoning punk quartet that has spent a good chunk of this past year everywhere but home.
Whether touring across North America with their pals in The Menzingers, or raising havoc in Europe, PUP's managed to extend the life of their sizably impressive 2013 Self-Titled debut. And fans of melodically-friendly music with an edge seem to only want more.
If you've been fortunate enough to see PUP in concert, then you've witnessed the frenzy in which the crowd is whipped up into from the first note onward. The pit sways; speakers shake; security guards look nervous; and slight in size – but beastly on the mic and guitar – stands frontman Stefan Babcock in the middle of it all with a smirk on his face. Looking around him, Steve Sladkowski (guitar), Nestor Chumak (bass), and Zack Mykula (drums), share similar looks.
"In January, when people asked me what I did, I said I was unemployed. Now I tell them I'm in a band," offers Chumak when discussing with Riffyou.com the rising profile of PUP.
"It's funny. I feel like we tricked everybody," adds Babcock. "It's a lot easier to make friends now, which is cool. We get to meet great people in every city that we play. It's been a big party for the past six months."
The feeling that comes from PUP's album and their live show is that of timeliness. With their first true musical statement, PUP appears to have genuinely manufactured a sound and identity that relates to the kids – and kids at heart – who are willing to take a crowd-surfer's foot to the face.
There isn't any eyeliner, leather pants, feathered hair, or hint of arrogance here. What stares you in the face is four young dudes that want to play hard, but also want you to feel that all-important connection.
"It's now time for heavy music to make a comeback," relays Babcock. "There are a lot of great bands playing really heavy music, but I don't think there are too many playing heavy music with as much 'pop' as we are…without doing super-cheesy Three Days Grace kind of stuff; really bad hard rock; or really obvious pop-punk.
"A lot of those kids who listened to Blink-182 and Sum 41 10 years ago, they want something similar, but a lot less melodramatic," he continues. "We listened to a lot of that stuff 10 years ago, but have grown out of it. We want to do something like that, but in a new and exciting musical way."
When discussing the group's future musical way, Babcock says that PUP's hectic touring lifestyle of late has made it difficult to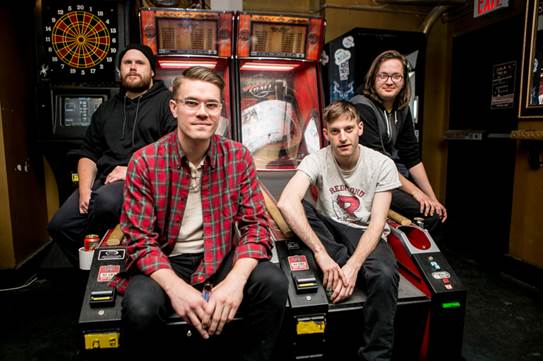 truly get the new album underway. That said, it is in the works, with many ideas in the air, plus a seemingly challenging goal.
"It's going to be heavier than the last one," confirms Babcock. "What we're trying to do is make it simultaneously weirder and more accessible…that seems rather opposite of each other, but I think it's an interesting goal to approach the record with."
Before that is fully realized, PUP are set to embark on their first North American headlining tour in October. It gets underway on October 8 in Minneapolis, MN, before closing out on November 8 in Boston, MA.
How's that going to go? PUP isn't entirely sure, but it'll certainly serve as a great measuring stick and entry into the memory bank.
"It probably sounds more glamorous than it'll be," jokes Chumak. "It'll be our first time headlining in most of the places we'll be playing. Whether it's to two people or 30 people, it'll still be fun."
"It's just time [to do it]," says Babcock. "We've toured so much and it's time to see how much people actually give a shit about PUP. We don't know what's going to happen when we headline Phoenix, Arizona. Will two people be there, or 100? Your first headlining tour is always exciting because you just never know what's going to happen."
-Adam Grant
-Main photo by: Mitchell Wojcik
Tour Dates:
Sun Sep 7 – Toronto, ON – Riot Fest
Tues Oct 7 – Minneapolis, MN – Triple Rock
Weds Oct 8 – Winnipeg, MB – Windsor Arms
Thurs Oct 9 – Saskatoon, SK – Amigos
Fri Oct 10 – Calgary, AB – Broken City
Sat Oct 11 – Edmonton, AB – Mercer (Up + Down Music Festival)
Mon Oct 13 – Vancouver, BC – Fox Cabaret
Tues Oct 14 – Seattle, WA – El Corazon
Weds Oct 15 – Portland, OR – Slabtown
Fri Oct 17 – San Francisco, CA – Brick & Mortar
Sat Oct 18 – Los Angeles, CA – Culture Collide Festival
Mon Oct 20 – San Diego, CA – Casbah
Tues Oct 21 – Phoenix, AZ – Rhythm Room
Thurs Oct 23 – Dallas, TX – Three Links
Fri Oct 24 – Austin, TX – Red 7
Sat Oct 25 – Houston, TX – Fitzgeralds
Weds Oct 29 – Tallahassee, FL – Club Downunder
Thurs Oct 30 – Tampa, FL – Pre-Fest 
Fri Oct 31 – Gainesville, FL – The Fest 
Mon Nov 3 – Cincinnati, OH – MOTR Pub
Tues Nov 4 – Pittsburgh, PA – Brillobox
Weds Nov 5 – Washington, D.C. – DC9
Thurs Nov 6 – Philadelphia, PA – Barbary
Fri Nov 7 – New York City, NY – Mercury Lounge
Sat Nov 8 – Boston, MA – Brighton Music Hall
Please be sure to follow us on Twitter @riffyou and at Facebook.com/riffyou.