Interview: The Dirty Nil – A Table for Three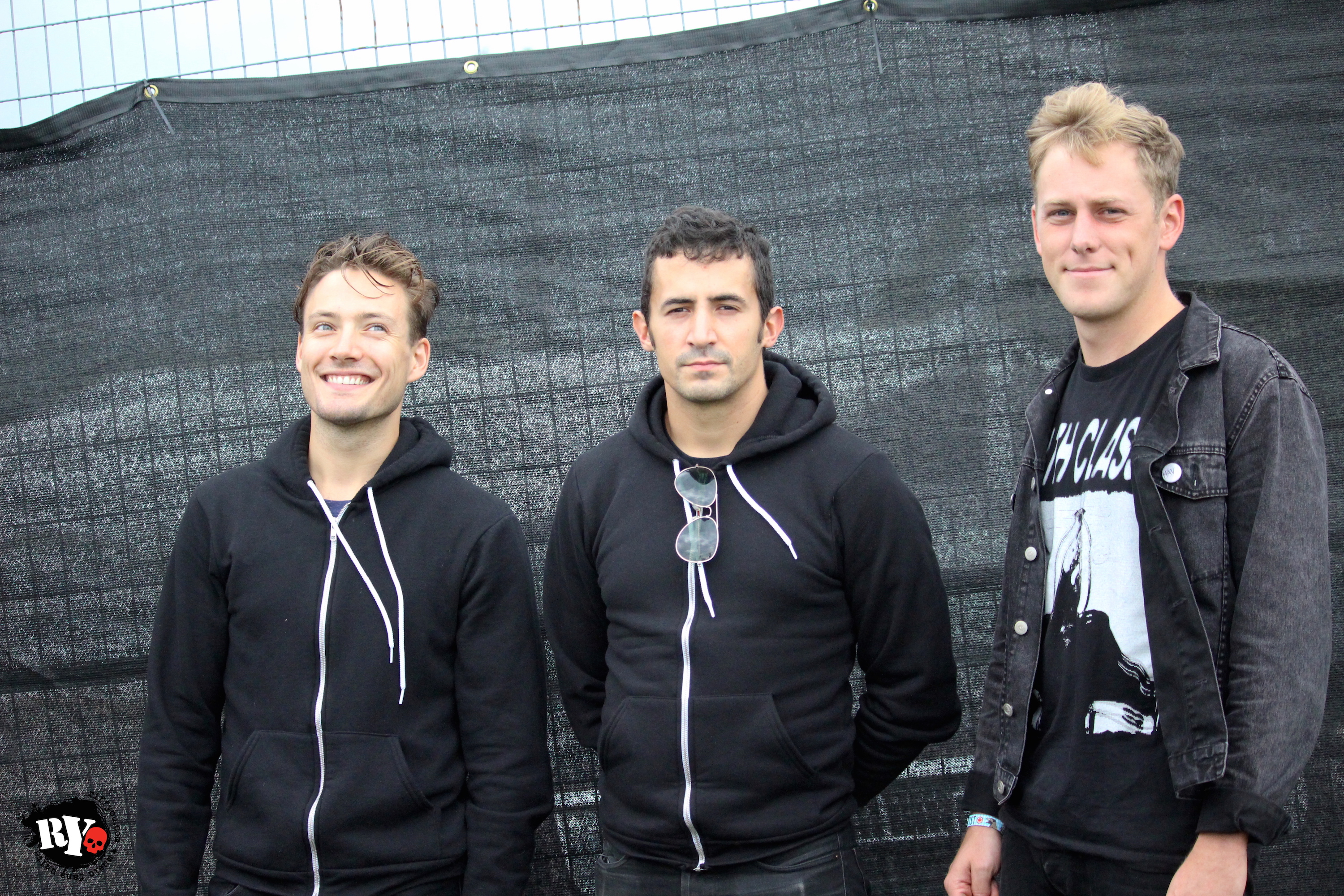 As the cold, wet and muddy Saturday night of Riot Fest Toronto began to take shape, a warming chant emerged from the crowd at the Radicals Stage: "Dirty Nil! Dirty Nil! Dirty Nil!"
Despite being the smallest stage at the festival, heat was building around it as surging Canadian rock trio, The Dirty Nil – Luke Bentham (guitar, vocals), Dave Nardi (bass, vocals) and Kyle Fisher (drums) – prepared to grace it. Even without the band having a full-length album available to the public, the public's thirst that night was clear and palpable – and it would soon be quenched.
While fan excitement was obvious, so was The Dirty Nil's when discussing with Riffyou.com the impending release of the band's debut full-length album.
To be released through Dine Alone Records in early 2016, the forthcoming full-length might as well be titled Finally. After a glorious EP (Smite) and a handful of pulsating 7" offerings, The Dirty Nil has been one of those bands in the Canadian independent rock community in which an album has been longed for. The band knows this, with Bentham acknowledging that it was a "hell of a long time coming."
Here's the important question then: what can listeners expect?
"I think it strengthens a lot of the things we were already doing," offers Nardi. "We touch on different sounds that we haven't tried much before. For the most part, it's not a departure record."
"Personally, I try to stay away from any kind of idea about what an album is going to sound like, because it never actually sounds like what you initially thought it was going to sound like," counters Bentham regarding the recording process. "I tried to keep an open mind the entire time, but as the pieces came together and the picture became clearer, I just became excited."
What The Dirty Nil have become known for over the years is delivering garage rock aesthetic, with elements of punk, alternative and a smidge of post-hardcore thrown into the mix. Live, or on album, the band has a very distinct sound. But, the guys are quick to say that being open to more than what people currently hear is also important.
"I've never seen the band as one specific thing, nor have any of us wanted it to be," says Nardi. "We've never come up with an idea and thought, 'This wouldn't work for us,' because we never made a point of setting up parameters for ourselves for what we can and can't do. That makes it easier, because none of us are insanely prolific writers, so it helps that we don't have to cross riffs off our list."
Adds Bentham: "It's hard for me to distill in one point what we are, because we are a bunch of different things. We all bring different ideas to the table and present different things. Together, we are this band – a collection of personalities."
It is this internal diversity that makes The Dirty Nil's affiliation with Canada's Dine Alone Records make a hell of a lot of sense. Just like the band, this record label doesn't solely associate itself with one particular sound.
Had The Dirty Nil signed with Fat Wreck Chords after successfully releasing 2014's Cinnamon b/w Guided by Vices 7" together, (which could've happened) it would've been easy for the threesome to be pigeonholed as strictly a punk band. While still on good terms with Fat, The Dirty Nil felt better about Dine Alone Records.
"We pretty much had to be like, 'Here's our record.' And they were pretty excited, so it worked out," notes Bentham.
"There wasn't a conscious decision to make the album before talking to labels," relays Nardi. "Had someone come to us ahead of time and were very excited, it would've been different. But, where we were at, we didn't have any major prospects and the album was ready. So we thought if we have the record ready – that we could present as a finished product – that'd be a bonus. That also helps avoid any creative input that's not our own – like, nobody could really shape this but us. That was pretty essential."
"It's definitely our most accomplished recording to date," concludes Bentham. "I'm excited and very proud of it. We worked hard on the preparation and it was a hell of ride. I am excited to show people what we've done."
-Adam Grant
Keep an eye out for The Dirty Nil's 'No Weaknesses' 7″. It'll be out in November.
Please be sure to follow us on Twitter @riffyou and at Facebook.com/riffyou.