Jack White & Eddie Vedder Get On Baseball Cards

Very rarely (if ever!) do music souvenir collectors and sports cards collectors meet in one spot, but the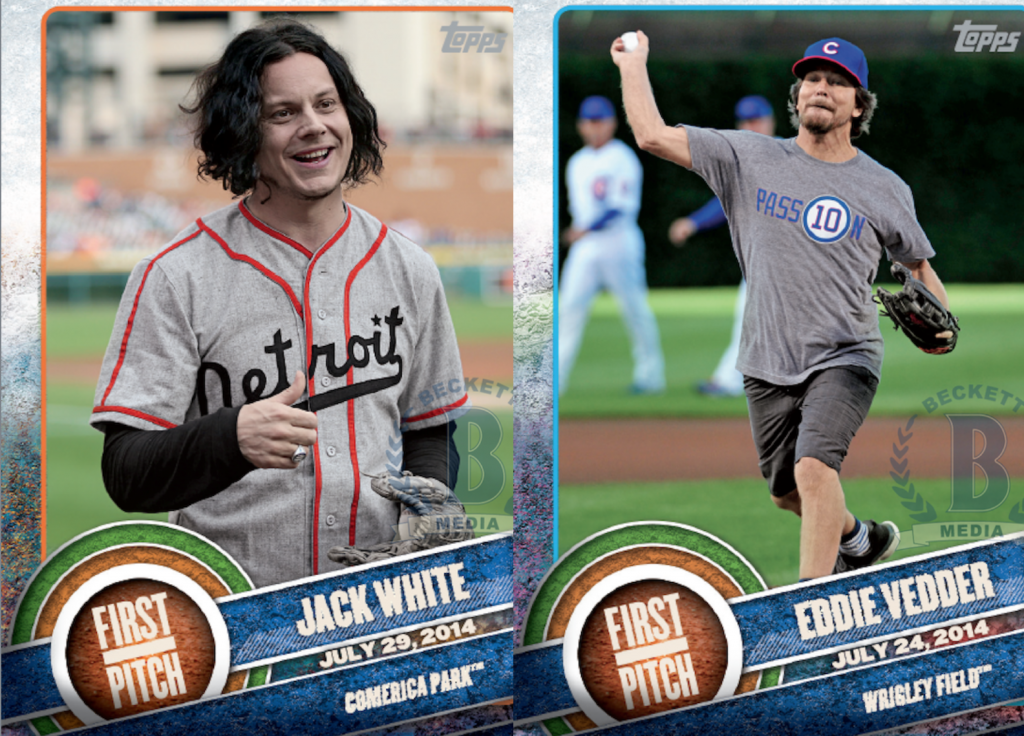 news that a number of high-profile artists will be featured on baseball cards, should bring the parties together.
Available February 6 through the 2015 Topps Series 1 collection of Major League Baseball (MLB) cards, will be a 15-card set of ceremonial first pitch tossers. Among those to be immortalized on cardboard will be Jack White (in a Detroit Tigers jersey), Pearl Jam's Eddie Vedder (in a Chicago Cubs t-shirt and cap), along with Biz Markie repping the Oakland Athletics and Tom Morello the Cubs, plus Macklemore showing support for the Seattle Mariners. You can read the full list below.
Oh yeah, you'll also find photographic evidence of one of the worst celebrity first pitch attempts of all-time: 50 Cent for the New York Mets. He proved on this occasion that he can spit a rhyme better than hurling a ball.
For film fans out there, Jeff "The Dude" Bridges is documented having a great time while throwing ahead of a Los Angeles Dodgers game.
With regards to White, this card unveiling couldn't have come at a better time, as recently he was criticized for abandoning his hometown of Detroit.
-Adam Grant
2015 Topps Series 1 – First Pitch Cards
FP-01 Jeff Bridges — Los Angeles Dodgers
FP-02 Jack White — Detroit Tigers
FP-03 McKayla Maroney — Chicago White Sox
FP-04 Eddie Vedder — Chicago Cubs
FP-05 Biz Markie — Oakland Athletics
FP-06 Agnes McKee — San Diego Padres
FP-07 Austin Mahone — Atlanta Braves
FP-08 Jermaine Jones — Los Angeles Dodgers
FP-09 Tom Willis — Baltimore Orioles
FP-10 Graham Elliot — Chicago Cubs
FP-11 Tom Morello — Chicago Cubs
FP-12 Macklemore — Seattle Mariners
FP-13 Suzy – Los Angeles Dodgers
FP-14 50 Cent – New York Mets
FP-15 Meb Keflezighi — Boston Red Sox
Please be sure to follow us on Twitter @riffyou and at Facebook.com/riffyou.