Jimmy Fallon Reunites Saved By the Bell Cast at Bayside

Despite its obvious cheese factor, the original incarnation of Saved by the Bell was the quintessential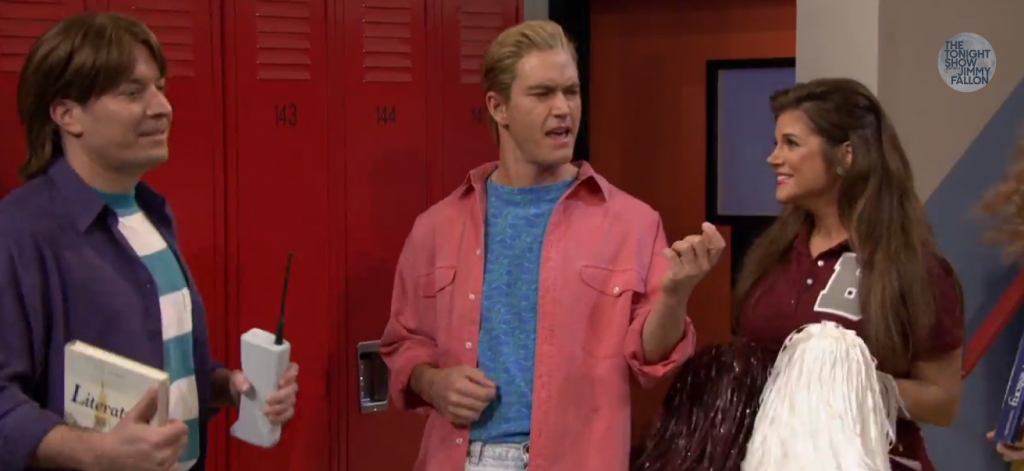 teen comedy that dominated the airwaves for four memorable seasons.
Last night, The Tonight Show brought back Zack Morris (Mark-Paul Gosselaar), A.C. Slater (Mario Lopez), Jessie Spano (Elizabeth Berkeley), Kelly Kapowski (Tiffani Thiessen), and even Mr. Belding (Dennis Haskins), for a dead-on reliving of the show, only this time the storyline featured Jimmy Fallon as a student about to leave Bayside High to pursue his dreams of being a comedian…and maybe dating Nicole Kidman.
Everything from the character depictions, to the hallway setting, to the familiar phrases and past episode references were beautifully portrayed and executed with an amazing charm. It's hard to believe the show's been off the air for over 20 years.
What's the music angle here you ask?
The brief reunion of Zack Attack, of course!
Please be sure to follow us on Twitter @riffyou and at Facebook.com/riffyou.