Julian Casablancas Releasing Album in Cigarette Lighter

Julian Casablancas, frontman of on again/off again rockers The Strokes, has revealed that he'll release his sophomore solo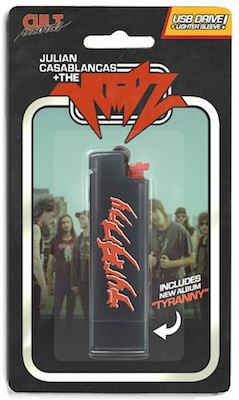 album, Tyranny, in a cigarette lighter shell.
Backed on this album by his new band, The Voidz, this new offering from Casablancas consists of 12 tracks, including the 11-minute lead single, "Human Sadness." The single can be downloaded today via iTunes, while the album can be pre-ordered from Casablancas' label, Cult Records, ahead of its September 23 release date.
To clarify, the cigarette lighter packaging is just that – you can't actually light anything with it. It is, in fact, just being used as a way to make a USB flash drive version of the album look cool. I hate to say it, but mission accomplished. You can get yours today in black, white, or yellow for $22.
If that is too weird or uninteresting for you, vinyl ($26), CD ($16), cassette ($14), and digital download ($3.87) options are available as well.
-Adam Grant

Tyranny Tracklisting:
1. "Take Me in Your Army"
2. "Crunch Punch"
3. "M.utually A.ssured D.estruction"
4. "Human Sadness"
5. "Where No Eagles Fly"
6. "Father Electricity"
7. "Johan Von Bronx"
8. "Business Dog"
9. "Xerox"
10. "Dare I Care"
11. "Nintendo Blood"
12. "Off to War…"   
Please be sure to follow us on Twitter @riffyou and at Facebook.com/riffyou.