Knitted Morrissey Doll Maker Under Siege

What may be better than the real life Morrissey, is a knitted Morrissey doll that you can eat a hamburger in front of and not feel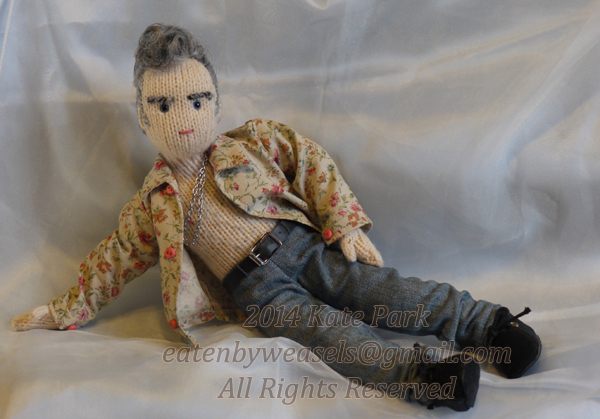 guilty or judged.
Recently, a UK woman has been making headlines for her collection of knitted Morrissey dolls in which she occasionally sells through her blog. Featured here is Smiths-era Morrissey dolls, as well as numerous post-Smiths Morrissey dolls. The resemblance is uncanny, except we believe that the human Morrissey does have a much bigger mouth.
Unfortunately for the doll maker, Kate, she has become so overwhelmed by product enquiries that she has opted to stop making some available for sale until she is able to catch up.
"Please bear in mind that I'm just one old girl with arthritis and I have to rest my hands between dolls," reads a statement on the blog. "This is only a hobby; I make a rule of making dolls only when I feel in the mood for it. Thanks for understanding."
Kate has also made knitted dolls of fellow Smiths member, Johnny Marr, but doesn't have any of those available for purchase. However, there is a photo of one of the Marr dolls being held by Marr himself. Something tells us that Morrissey wouldn't be as gracious about receiving one as his former guitarist was.
-Adam Grant
Please be sure to follow us on Twitter @riffyou and at Facebook.com/riffyou.