The Friday 5: Why Lady Gaga will Do Great with Muppets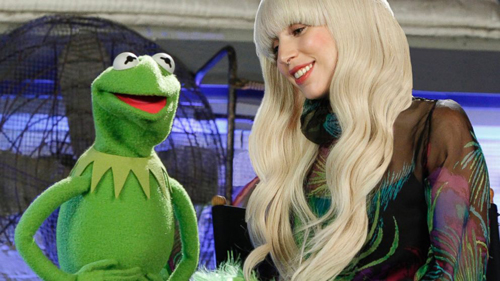 On American Thanksgiving (November 28), ABC will be airing Lady Gaga & The Muppets Holiday Spectacular, a 90-minute smorgasbord of activity featuring one of the world's wackiest pop stars, puppets, and special guests like Elton John and Joseph Gordon-Levitt.
The very colourful and spastic preview of the show hints at a love triangle between Gaga, Kermit the Frog and Miss Piggy, interweaved within lots of bombastic performances and costume changes.
In honour of what should be one of television's most ridiculously beautiful specials ever, let's take a look at five things that'll make it tremendous to watch.
1. Lady Gaga is a Muppet: Now, this is not an insult. Like the Jim Henson creations she'll take the stage with, Gaga is a larger-than-life colourful character that promotes the acceptance of one and all. She wants everyone to get along and wants her music to act as a security blanket for those who need such protection the most.
2. Miss Piggy needs better competition: There's been an odd debate for years floating around about if Lady Gaga is as attractive as a mega-pop star should be. It's a superficial and time-wasting debate, but one thing is for certain: Gaga's presence in the Muppet world will force Miss Piggy to step up her game.
3. Kermit rules!: That's it. How can anyone have anything against Kermit the Frog?
4. Elton John may act: In the preview, what we see is Elton John performing yet another duet with Lady Gaga. However, I have a feeling that he'll have some sort of an acting role in this production. Perhaps he takes on the old, grumpy, hyper-critical Muppets always stationed in a balcony? That would be magically snarky!
5. Lady Gaga covering up: Lady Gaga can be guilty of over-sexualizing herself from time-to-time, but one has to imagine that the Muppet folks will keep her rather covered during this special. Maybe then, some critics (and parents!) will have the opportunity to finally focus on the talent beneath the fashion.
Now, for those who haven't seen the special's commercial yet, you can do so below: