Marilyn Manson Details Strange Sex Life

In a new interview with Rolling Stone to promote his forthcoming album, The Pale Emperor, Marilyn Manson gave captivating, if not unsettling, (maybe even made up)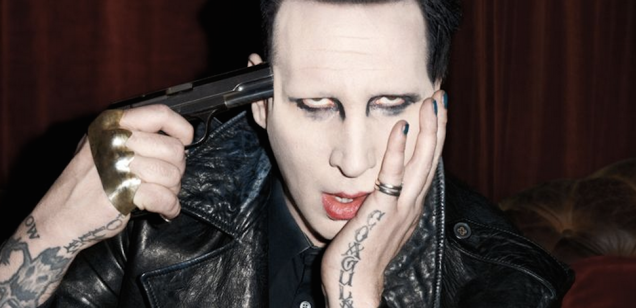 details regarding his sex life.
Manson confirms, "I'm just really shy, despite what you'd imagine," and that's why he refuses to have sex with the lights on. However, the lights are seemingly off quite often at his home, as he requires getting down at least five times a day, but can still hit the 10 times a day mark. Not bad for a 45-year-old fella.
As for attire, Manson will not fully remove his underwear. He says that they remain around his ankles because, "I have a phobia that the house is going to catch fire, and I don't want to be naked."
When discussing intimacy, Manson says he tries to avoid getting too close to people: "I don't really like being intimate with people. I think maybe twice in my life have I taken a shower with a girl, and that was in the dark. I'm just really shy. I also have a great fear of bathtubs, maybe because my mother used to bathe me as a child and I have fractured memories of just not enjoying it."
During this profile piece with RS, we also meet Manson's photographer girlfriend, Lindsay Usich, who uses a blacklight flashlight in the home to inspect her man's underwear for semen.
Explained Manson: "Lindsay has used it on my underwear to see if I'd done something naughty when I was out. I said, 'Fooled you. I might have changed my underwear. How do you know that I didn't?' She goes, 'Because you don't change your underwear.' I said, 'That is true. Good answer. Good answer.'"
At the end of RS's time at the Manson home, Usich is asked to confirm the five times a day claim:
"Uh, yeah," she replied. "It's been much more than five, but yes."
"So," continued Manson, "I imagine you're probably just nursing your lady parts with a bag of ice right now?"
Ah, it's great to see that romance still exists in this sometimes cold, cruel, world.
-Adam Grant
-Photo by: Terry Richardson
Please be sure to follow us on Twitter @riffyou and at Facebook.com/riffyou.