New Metric Album, "Pagans in Vegas," Coming in September

Metric will unleash its sixth full-length studio album, Pagans in Vegas, on September 18 through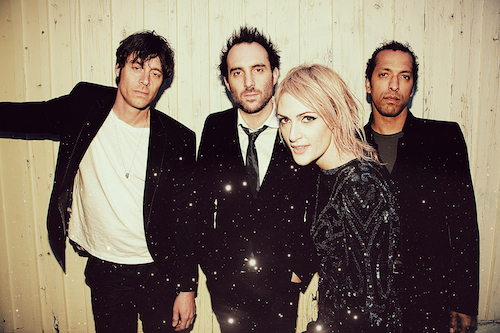 MMI/Universal. Beginning today, various incarnations of the album can be pre-ordered. Each comes with a pair of exclusive bonus tracks.
According to a press release, Pagans in Vegas features "reverent reference" to artists that have inspired Metric, including Depeche Mode, Joy Division and Underworld. Metric is also said to have stitched "together its acoustic and synthetic foundations with a crisp, unique now-ness that captures the quandaries of life in an age where bad news is unavoidable and great art is a life-saver."
"With this record we were making music for the joy of it," says Metric guitarist and producer James Shaw. "We're still in the game as musicians and people, although the game has gotten increasingly unrecognizable to us."
In addition to Pagans in Vegas, fans will be able to expect another album from Metric in 2016, thanks to "an unprecedented amount of material that revealed itself across at least two major musical veins" during the band's 2014 writing sessions.
Also available from Metric is the limited edition cassette EP known as The Shade.
Here's a video for "Cascades," the second song to be released from Pagans in Vegas.
Pagans in Vegas Tracklisting:
1. "Lie Lie Lie"
2. "Fortunes"
3. "The Shade"
4. "Celebrate"
5. "Cascades"
6. "For Kicks"
7. "Too Bad, So Sad"
8. "Other Side"
9. "Blind Valentine"
10. "The Governess"
11. "The Face Part I"
12. "The Face Part II" 
Please be sure to follow us on Twitter @riffyou and at Facebook.com/riffyou.