NXNE 2014: Five Things Learned by a Sleigh Bells Virgin

There are certain bands that make a lot of noise for years, but you never wind up listening to unless put into an optimal position.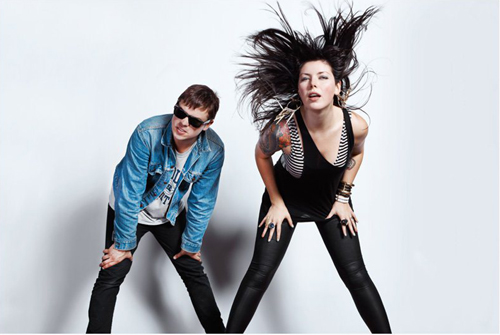 For me, one of those bands proved to New York noise-rockers, Sleigh Bells. Often hyped, revered, and written about, somehow I'd never afforded myself the opportunity to see what everyone was gushing over.
Last night at the North by Northeast (NXNE) festival in Toronto, ON, Sleigh Bells headlined the Yonge-Dundas Square stage as part of the event's free concert series.
Being in the neighbourhood and having friends encouraging me to give the band a try, there I stood to absorb the massive sonic barrage about to smack the ignorance off of my face.
In this NXNE edition of The Friday 5, here are five things I learned from last night's Sleigh Bells gig:
1. Frontwoman Alexis Krauss doesn't fuck around: From the second she slid beneath the stage lights, Krauss had the audience stuck within her grasp. As if their fingers were stuck in a vice, the cross-section of hipsters, heavy-rockers, and those taking advantage of VIP privileges danced like they were at a disco; waved their hands like they were at a hip-hop show; and freaked out as if they'd been time-machined back to a '90s-era Rage Against the Machine concert. All the while, Krauss continued to incite, elicit, and order them to stay with her.
2. Holy hell those be some heavy beats: Whether they came from a well-amplified drum kit or programming, the pulse of the Sleigh Bells sound shook the square violently, surprisingly not knocking out any windows or 22 Jump Street billboards along the way. My internal organs are still rattling around.
3. Mutual respect: There have been many reports of late about audience members getting too handsy with female musicians and/or concert goers. Several times during the set, Krauss praised the crowd for their attendance, almost to the point of nausea. But, the funny thing about such graciousness, and respect, is that it gets returned. There were many instances where Krauss stood against the barricade, pressing herself into the bodies of the front row. And guess what? Not one person got piggish and subsequently slapped. Respect breeds respect.
4. Sleigh Bells' fearlessness: It takes a large set of coconuts to play the type of music Sleigh Bells does. By no means is it the most welcoming. Sure, Krauss has an amazing presence and voice, and a band that truly crushes it onstage, but that doesn't always guarantee appeal…especially with the noise-rock element cranked beyond 11. Still, tenacity has served them well, and on Thursday evening that trait stopped a sizeable chunk of downtown Toronto music fans dead in their 'let's-go-to-H&M-instead' step.
5. My own stupidity: Last night as I stood their feeling very old for not having put forth the energy to explore Sleigh Bells earlier, one thing came to mind pretty fast: I'm an idiot. What was I waiting for? I knew the band was out there, I knew how to get their music, and I knew that there was a better than 50/50 shot that I'd like them. Thus, all that can really be said is there must be something wrong with my level of intelligence. Yes, I be that idiot who for years went, 'what about Sleigh Bells?'
-Adam Grant
Please be sure to follow us on Twitter @riffyou and at Facebook.com/riffyou.