Paul McCartney Reflects on Recording with Nirvana Members

Back in 2012, music fans equally enthused and bemoaned the fact that Paul McCartney would take the stage with surviving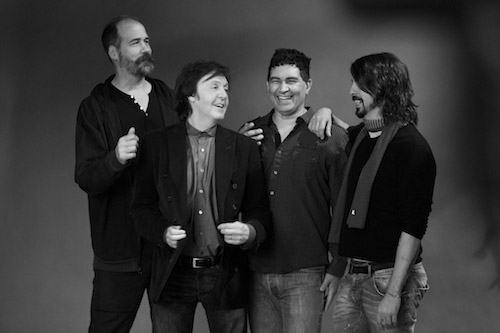 Nirvana members Dave Grohl, Krist Novoselic and Pat Smear during 12-12-12: The Concert for Sandy Relief.
Well, it happened and it was magnificent. Together, they introduced the world to a new song ('Cut Me Some Slack'), which was recorded and featured in Grohl's 2013 documentary, Sound City.
In a recent fan-driven Q&A by Impossible.com, McCartney once again shed some light on how the collaboration came to be:
"It came about by Dave Grohl of the Foo Fighters ringing me, because I'd run into him. You know how you run into people at things, at events and stuff and it's like, you just chat, you don't really spend much time together and he said he was doing a project about Sound City. There was a great old recording studio that he had the desk from, and he was getting people to come in, record a bit on his desk and he could put it all together, which he did later and turned it into a film. So he said would you come along and we'll just do something, a little jam, we'll do something. He wanted to do 'Long Tall Sally' but I said well I've done that with The Beatles and I don't really just want to do 'another' version that would be a bit boring.
"And – name dropping here – but Johnny Depp had just given me a guitar – he's a guitar freak – and he'd given me this cigar box guitar and I plugged it in and it was howling! It was great! It was like alive, you know! [howls] And so I was having so much fun on it that I took my bass and this guitar and said, you know, I'd really like to play this guitar. So Dave said, 'Ok, great!' So we got out in the studio and he had two other mates with him, a very tall guy and a not-so-tall guy. And they turned out to be two members of Nirvana. Krist and Pat and Dave, that meant I was playing with three Nirvana guys, which I didn't know until about half way through the set! [laughter] And they started saying, 'Wow, it's great we haven't played like this for years!' And I'm going, 'Oh, you played then, did you?' [laughter]
"Anyway, so I just started up playing on this guitar and, like I say, it was so much fun to play, it kind of almost played itself. It was like it was alive, and I was using a slide, so I just started this riff and we all liked it. So Dave bangs in on drums, and he's such a good drummer, you know like, 'Oh! Ok!' So that lifted it. Krist got on the bass; he was kind of saying, 'Do you want to play bass?' And I said. 'No, no you play. I'm playing this guitar!' So then Pat got on the guitar and we just started jamming around on this riff, and I started screaming over it [screams 'Mama', 'Set me free!']. Whatever, you know. I just screamed nonsense over it and we did that for about 15 minutes and then we went in to listen to it and thought, 'Yeah, this could be good!' The key question that I said to the guys, I said, 'What do we think about structure?' And Dave went, 'Structure is good'. [laughter] So I said, 'Ok, well let's… That's the opening riff, this should be the verse, that should be the chorus, we need another bit, so let's go and work that out and then, then let's play it as a structured piece'. So that was what we did.
"We took the little original riff and then took the 'Mama' screaming as a sort of verse, and then made another bit where it became a bridge. And after about three hours we'd done it and it was great. It was just so exciting because, you know, well, they're Nirvana! And I wasn't trying to be Kurt, because I didn't even know they were Nirvana, so I was just jamming with some guys who I liked and I think later a couple of people said, 'Oh what's he doing trying to be the new Kurt Cobain?' [laughter] Erm, no not really!"
Please be sure to follow us on Twitter @riffyou and at Facebook.com/riffyou.