Jailed Pussy Riot Member Found in Tuberculosis Hospital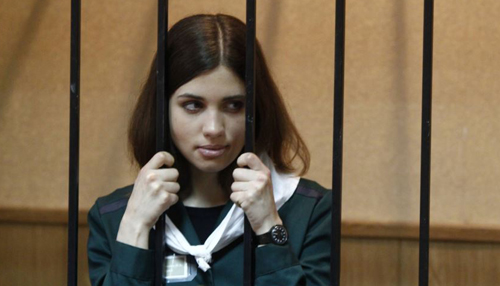 Despite reports claiming that jailed Pussy Riot member Nadezhda (Nadya) Tolokonnikova was transferred to a new prison near Siberia, Rolling Stone has discovered that the activist rocker is in fact held up at a hospital in Krasnoyarsk, a region of Siberia.
Tolokonnikova's husband, Peter Verzilov, told the publication that she's residing in Krasnoyarsk's Tuberculosis Hospital No. 1. He was provided this information by the Russian police service, and subsequently got to speak to his wife today.
"She was in good condition. She said her conditions were OK," Verzilov told Rolling Stone. "She's not sick right now, she's just having procedures and tests related to the hunger strike."
Tolokonnikova went on a hunger strike as a way to protest the harsh conditions she was experiencing while jailed in Mordovia.
In all, Tolokonnikova's location was kept under wraps, even from family, for 24 days as she was whisked away to the hospital. Tolokonnikova's told Verzilov that she was treated alright, but wasn't allowed to have contact with the outside world during this transfer.
Verzilov said that a prison service source had informed him that Tolokonnikova could serve the rest of her two-year sentence at this hospital. Meanwhile, her lawyers expect that she'll be re-located to a facility in Nizhny Ignash, which is 150 miles away from Krasnoyarsk.
Tolokonnikova and additional members of Pussy Riot, were imprisoned for protesting against Russian President Vladimir Putin within a church.