Q&A: Mike Ness of Social Distortion – The Story of His Life

Being a living legend in the punk rock community doesn't happen overnight. It takes years of struggle before an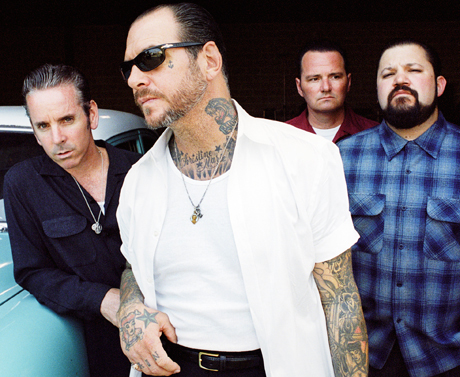 audience is found, a few more years to become culturally significant, and even more years to figure out who you are amidst all of that.
For Mike Ness, he transitioned from an admittedly tough childhood, into a song writer and musician who over the course of 35+ years has been an open book regarding his past drug and alcohol addictions, failed relationships, and day-to-day struggles. Chances are if you've listened to anything penned and sang by Ness as either the founder and frontman of Social Distortion, or as a solo performer, chances are you've found yourself in at least one of his songs.
Beyond the music, Ness is a family man that hopes to become a better family man. He's also an avid antique hunter (to the point where he owns a blast-from-the-past shop in Orange, CA, called Black Kat Vintage), and he affectionately shares photos of his three Chihuahuas on Facebook.
Ness is a multi-layered, thoughtful, humble, and noble artist that's to be appreciated. He also strikes you as working man who just happens to have some really cool jobs.
That said, he's still a legend.
Recently, Riffyou.com called up Ness to discuss the status of his autobiography (Story of My Life) and what he's learned from process, as well as where he'd be without Social D, maturing as a writer, fantasy jobs, retirement, antiquing, and the three albums he is currently working on.
RY: We're excited that Social Distortion is coming up to Canada for Riot Fest (click here to win tickets!). What are your thoughts about being apart of the bill?
Mike: "We're stoked that we're on the bill in a respectable slot, of course, but a lot of people don't realize that we have strong roots in Canada. We've been coming to Canada since 1982. I always have an affinity for that. It's a great festival and we're happy to be a part of it."
RY: Why do you think Canadians connect so well with the band?
Mike: "A few things: being working class, and our music is working class that touches on working class issues. I think that Canadians appreciate good music. The one thing I always appreciate when I'm there is watching Canadian music videos on TV. They're so much more creative than some of the crap they're playing on MTV and video shows here. For some reason, United States music videos are just so censored or generic. There's not much artistic [value]."
RY: You've had an autobiography in the works for a while now. Is it close to coming out?
Mike: "No," laughs. "I was supposed to take this year off, because the last 10 years have been solid touring, and I wanted to take some time off. I got about halfway through the book, but it didn't feel like I was articulating my message accurately. I was just spread too thin. I'm trying to take time off and be a family man, but then I'm trying to write this book and it was interfering with my focus. The book can wait. My sons need me, my wife needs me, and I need to be present.
"I have a sixth grade education. I mean, I stayed in school until the beginning of twelfth grade, but sixth grade is where I stopped paying attention. So here I am trying to write this college essay, only it's 33 of them, because there are 33 chapters. It was gnarly. I just don't have the focus right now that I need to do it. But, I have a rough draft. I really like the content, and I think it really paints a great picture. But, y'know, I had to realize that it didn't have to come out right now. I feel like if I wait a couple of years, I might be able to accurately say what I want to say, even better.
"I also don't like to quit anything. [At first] I felt like I was letting people down, but it was the right decision."
RY: Do you believe that years ago you wouldn't have been able to realize that it was okay to pullback from work like this, and focus on home life?
Mike: "Yeah, of course. I am very career-driven and sometimes I have to put that in check. It would've been easy to just put the family on the backburner, but that's just not cool. I'm just trying to be more aware of people other than myself."
RY: "When you were working on the book, did you discover sides of yourself that you hadn't yet discovered through song?
Mike: "Sure. A lot of it was having to re-visit stuff that I kind of ran from – a painful childhood, and things about me. Your career is not your identity, and for me with writing this book, it brought me back to my true essence, which is
developed when you're a small child. And, I didn't want to write a typical rock n' roll book: sex, drugs, backstage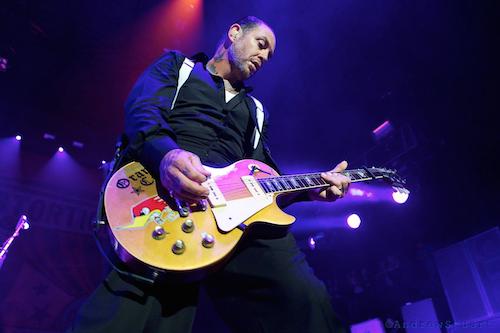 antics…there's a lot of that in it, but I wanted to write a book that was more about my journey of trying to become a
man, even at the age of 51. I'm still trying to figure that shit out."
RY: I don't think that process of 'trying to become a man' ever concludes…
Mike: "No, but I at least want to make it past adolescence," laughs.
RY: With starting Social Distortion as young as you did (17), obviously you grew up differently than a lot of people might have. Do you ever wonder what you would've been, or who you would've been had Social Distortion never existed?
Mike: "Of course I do. I have fantasy jobs like working in retail at a department store just selling rich housewives outfits and saying 'this looks fabulous on you! Let me find a matching handbag!' Then, the other is being like some sort of Vice or taskforce, law enforcement, undercover [person]. Or possibly someday becoming a guerilla activist – I'm kind of in-
training for that now anyways. So, maybe my retirement will be jumping on ships, kidnapping, and [participating in] espionage," laughs. "I still fantasize, yeah."
RY: Is retirement something that you think of and want at some point?
Mike: "No. It would be nice to tour when I want to and not when I have to. But, this is how I make a living still. A semi-retirement would be a nice balance of work and being able to travel somewhere and not have to cram work in. In other words, it's hard to enjoy Paris when you're working. It's hard to really see it. I want to go to a place like Morocco, where you don't work at all," laughs.
RY: With where you are in life now, do you find yourself writing more about what's ahead of you, as opposed to what happened to you in the past?
Mike: "Yeah, I think it's really important [to do that]. I have realized the importance of fiction versus non-fiction…as well as writing about positive things, not just negatives. [Even] writing songs that aren't so serious. I played with that on the last record (Hard Times and Nursery Rhymes, 2011), where I thought, 'I don't want to write a bunch of autobiographical shit.' So, I started writing 'Gimme the Sweet and Lowdown,' [and realized] that once I'm able to step out of the picture, it's still autobiographical, but I was able to write it in the third-person and use character writing. It was so much fun and revealing to me, [how it feels] to have just a little more fun with the writing. It's more freeing, and that was a good lesson for me."
RY: The one thing I've really appreciated about your writing throughout the years is that you always touch a lot on resiliency and not being afraid to move forward in life. Where did your sense of resolve come from?
Mike: "Evolution," laughs. "I just look at that picture of an ape slowly becoming a man. We cannot be afraid to evolve. For us, we were lucky, because it just so happened that our fans evolved along with us. It is a very honest and natural process. I don't try to write about things that I don't know about, even if it's something I've just discovered."
RY: You have a song like "Story of My Life" that is very relatable to a lot of people in terms of the challenges of growing up. As you grow older, does that song begin to represent something different to you?
Mike: "Um, yeah, of course it does. The older you get, the more people you'll bury. You'll see your kids growing up, and you'll see them go through good times and bad times. In other words, I wrote the song 20 years ago, but life is still going on…and that song is reflective. So when you hear it, it can still fit in the moment."
RY: It just seems to be one of those songs that doesn't get old. Listening to it today, it doesn't feel 20 years old.
Mike: "Yeah, I know. And I wish I know what I did," laughs. "I wish I knew how I wrote that."
RY: I know you're a big antiques guy, so I was wondering if there are any similarities you draw between antiquing and making music?
Mike: "I guess it would be old soul, art and industry…and craftsmanship. I'm sitting on a couch right now that's from
the early 1940s and I've had it reupholstered. It's gorgeous and it'll last another 50 years because I've taken care of it…and I'm the custodian of nice old things.
"And, my studio is filled with all of this stuff. So, not only do I enjoy collecting [old things], but it's also my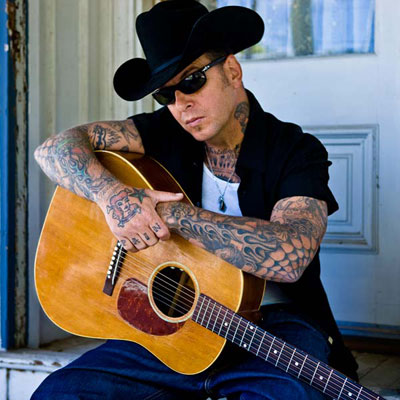 environment: it stimulates me; inspires me; and makes me want to be here. That makes me want to work. Everyone wants to come to practice because I've created such a cool hang."
RY: What's your favourite thing to collect?
Mike: "I couldn't tell you, because there are so many things that I collect. From old diamond rings, to vinyl, to clothes, to furniture, automobiles, guitars, and amps…there is no way of narrowing it down."
RY: I'm sure fans are anxious to know when they can expect a new Social Distortion album, or a new solo offering from you. What are you able to let us in on?
Mike: "I'm actually writing for three projects right now. I'm writing for a solo record – which I've almost had enough songs to use on it, for a couple of years now. I'm writing the new Social D album, and we want to put out an acoustic album that has some new stuff on it, but mainly has re-worked Social D songs that you wouldn't envision being acoustic. It's a chance for us to show people that [these songs] can be just as powerful with a couple of guitars, as they can be with an electric band.
"We do a version of "Cold Feelings," which is one of my favourite things to do. It has an upright bass and acoustic guitars. It has an electric guitar and drums, but they're very stripped-down and primitive. It's slower and you hear more…you can really get into the song. We've also done a similar thing with 'Reach for the Sky.' It's a project we've been talking about years.
"We'll probably do the Social D album first, but we'll see what happens."
-Adam Grant
Please be sure to follow us on Twitter @riffyou and at Facebook.com/riffyou.