Q&A: Teenage Bottlerocket Talk Punk Kids & Wyoming

On March 31, Teenage Bottlerocket – Ray Carlisle (vocals, guitar), Kody Templeman (vocals, guitar),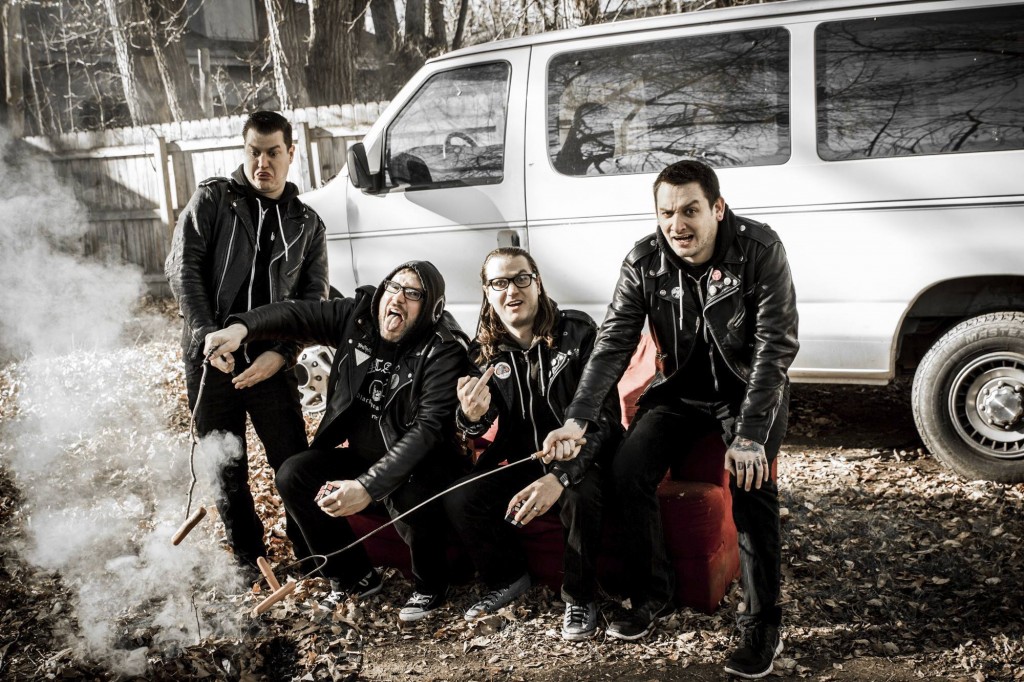 Miguel Chen (bass), and Brandon Carlisle (drums) – will put out their impressively enjoyable new full-length, Tales from Wyoming, through Rise Records. This will be the first release from the band since amicably parting ways with Fat Wreck Chords.
Recently, Riffyou.com spent some time on the line with Chen to discuss his thoughts on the album, life in Wyoming, joining Rise Records, and today's generation of punk rock kids.
RY: The recording process is behind you now, so how does Tales from Wyoming feel to you at this point?
Miguel: "I'm super stoked about it. I feel like it's the result of years and years together with this lineup working and pushing to be a little better with every record. Having Bill Stephenson produce it really helped us grow as a band. I don't want to say that in a way that'll scare people off – it's not a weird, off the charts record – but I like to think there's growth. I hope that people will recognize that."
RY: When you call an album Tales from Wyoming, I have to think that a lot of the subject matter comes from your home state. Would that be correct? 
Miguel: "Definitely. With Tales from Wyoming there are not specific nods like 'we went up to Snowy Range Mountains' or 'we've been drinking at the Buckhorn Bar.' But there are tales from Wyoming in the sense that it [focuses on] the shit we know and grew up with. That's just girls, getting your heart broken, comic books, scary movies, or going to parties with friends. That's what Wyoming is actually like. It's not necessarily riding around on a horse. The record is more about discovering things with your friends and our experiences as people from Wyoming."
RY: Would you consider it a reflective album?
Miguel: "Oh man, I wouldn't say that it is anymore reflective than any of our other records. We didn't set out to reflect upon ourselves. It's more, 'here are the things we know.' I don't know if much more thought than that went into it," laughs.
RY: You switched from Fat Wreck Chords over to Rise Records for the release of this album. How much thought went into making the right first impression?
Miguel: "Wish Rise Records, there's a new, built-in crowd with that label which may not have heard Teenage Bottlerocket before. But at the same time, we are not going to change our sound or songs to try and please a new audience. We just want to present the best of ourselves and hope that resonates with those people. We love Fat Wreck Chords…they're our buddies. But, that label [also] has a built-in audience and the majority of it is [already] familiar with us."
RY: As you know, there is always a new crop of kids discovering punk rock. How important is it for Teenage Bottlerocket to reach that audience? 
Miguel: "When we were all really young, punk rock really changed our lives and had a positive impact. For me, it's important to try and share that with a new generation of kids. Whether or not that resonates with them, I think it's at least important to try – as slightly older people now – to present things that are important to us and helped us grow and learn. Hopefully the kids can take something positive from that."
RY: Sometimes when you look at punk rock forums or social media communities nowadays, it seems like the idea of what 'punk' is all about has gotten lost. It's gone from being yourself and sticking to what you believe in, to fashion and hating others for no real reason. Do you view today's generation of punk rock kids differently than the one you came up with?
Miguel: "If you're talking about the Warped Tour scene, a lot of the bands who make it big there seem to have a 'fuck everything' message. I can sort of connect with that, but in our day, it wasn't about saying 'fuck you' to everything just for the sake of saying 'fuck you.' It was more about questioning everything and finding out what works for you…and what's true for you. That doesn't always necessarily entail putting your middle finger up to every, possible thing. It does entail trying new things and figuring out what's for you and what isn't for you."
-Adam Grant
Teenage Bottlerocket is currently on the road with Pennywise. Click here to view all tour dates.
Please be sure to follow us on Twitter @riffyou and at Facebook.com/riffyou.