Q+A: The Darkness Show Unity with "Last of Our Kind"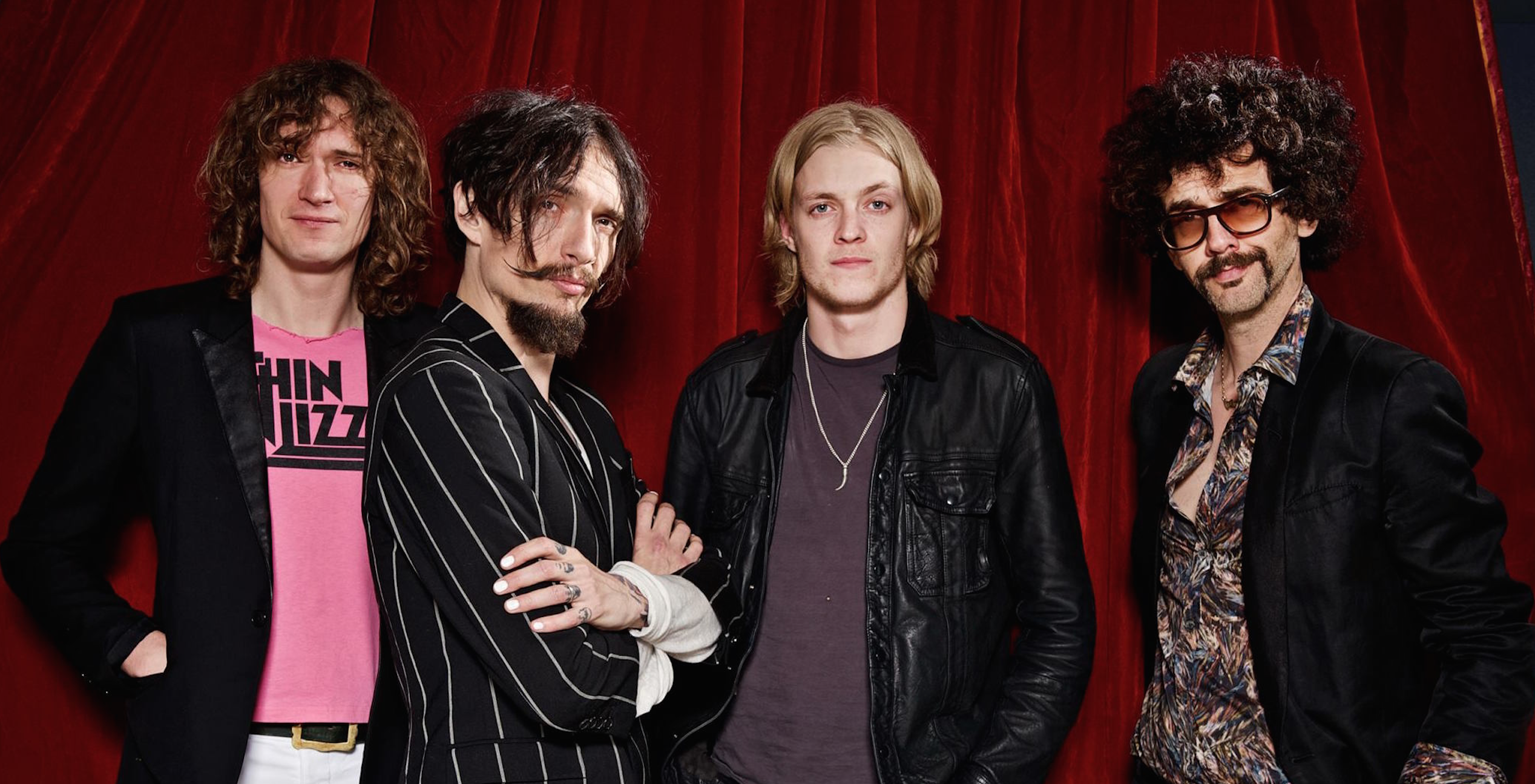 After releasing 2003's Permission to Land, The Darkness became a rock n' roll sensation in its homeland of the UK and beyond. Fans jumped aboard the fun loving, '70s and '80s rock sound and presentation put forth by the quartet. Some likened The Darkness to Queen (but with even more of a sense of humour), while skeptics felt that a gimmick was being capitalized on.
While radio/video hits like "I Believe in a Thing Called Love" and "Get Your Hands Off of My Woman" helped propel The Darkness onto the global stage, internal troubles began to creep up on the band. There was in-fighting and substance abuse problems getting out of control, eventually leading to frontman Justin Hawkins exiting The Darkness in 2006 so that he could get cleaned up. For many years, The Darkness existed only in peoples' memories.
Then in 2012, the band returned with Hot Cakes and followed that up with 2015's Last of Our Kind. When listening to The Darkness today, it feels as if the fellas never went away.
Not too long ago, Riffyou.com got on the line with The Darkness' Frankie Poullain to discuss his band's latest sonic offering, not being a gimmick, past troubles, plus what it's like to be in The Darkness in 2015.
RY: What kind of confidence did the experience of Hot Cakes give the band when going into Last of Our Kind?
Frankie: "There were actually a lot of things working against us with this album. There were personal issues that we all had; there were problems with the drummer; along with record label and management problems. A lot of politics were working against us, so we had to deal with all of that. And, that is why we had to create this private universe and went for an album which [looks at] escapism. That is why we probably have songs like 'Barbarian' and 'Roaring Waters,' which harken back to the past. Justin is also singing in character for a couple of songs. In a way, you can say this album has a theme of defiance. But, I think that made for an emotionally rich album…it is more heartfelt than anything we'd done before."
RY: What is it like to be in a band, be passionate about it and then have to deal with such turmoil? Does it hurt your motivation, or really inspire you to take things up a notch?
Frankie: "It inspires us when we feel those kinds of things, because that's how the band started in the first place: it was us fighting against the odds and doing a different type of music than what was being done at the time. In the UK, it was The Verve, Radiohead and that Jeff Buckley thing was fucking everywhere. We worked against that and that's the way we've always been."
RY: One thing I've always appreciated about The Darkness is that you take your music seriously in terms of crafting it, but you have a lot of fun performing it. Does the band consciously think about taking the music seriously, while not losing the enjoyment along the way? 
Frankie: "Yeah, that's exactly what we do. We take the music seriously, but all of the garnishing gives it a sense of fun. That's how we are as people as well. The important, essential things are done with a lot of care and attention, while all the decorations are fun. Of course, people misunderstand this and think that the whole thing is just a sense of fun. We've always been a bit misunderstood."
RY: Even after all these years of presenting yourselves in a specific way, is it still frustrating that some people continue to view The Darkness as a gimmick? 
Frankie: "Not so much anymore. We don't mind because we just try to enjoy this. We realize that people are the way they are and are not really going to change. There are people who are not going to get it, [because] those types of people just want to be cool and sophisticated. We are not going to change – we want to entertain the people who like us."
RY: Even though The Darkness is back in action again, was there ever a time where you didn't think the band would reunite?
Frankie: "Of course. We all thought that. When you're in the storm, you blow up in your own mind, get quite sensitive as a musician and are paranoid about things. But from the other side, people think you are just being silly – like all you need to do is sit at a table and you'll be fine. At first, I didn't think [a reunion] would be possible because we burned all our bridges."
RY: When you get to that level of success The Darkness did in those early years, what do you think people on the outside didn't understand about it? 
Frankie: "You lose control, that's the thing. The worst thing is you start blaming other people and there's a negative chain reaction. There's a lack of communication because everyone is on different drugs and different highs. It's difficult."
RY: What is it like to be in The Darkness now, versus the early 2000s?
Frankie: "On stage, it's the same. In fact now, we have more energy and intensity, because we are straighter, more focused and more in control. We control our destiny now. We are just more empowered."
-Adam Grant
Please be sure to follow us on Twitter @riffyou and at Facebook.com/riffyou.