Riff Review: Band of Horses "Acoustic at The Ryman" (Sony)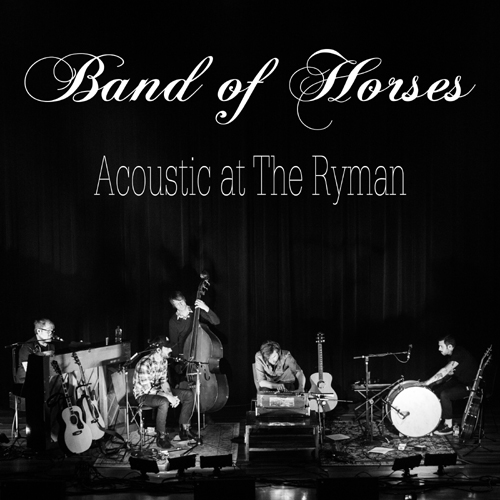 Not all bands naturally lend themselves to a live acoustic album, but Band of Horses can be considered one of those outfits that masterfully do. By the end of opening track "Marry Song" and the middle of its follow-up "Slow Cruel Hands of Time," the crowd and musicians sound more than sold on the concept.
Frontman Ben Bridwell's voice soars throughout the roughly 2,400-seat Ryman Auditorium in Nashville, TN, while the beautifully orchestrated harmonies bounce effortlessly off the venue's walls, sucking in audience members from all corners. Beneath, the instrumentation feels flawless and not at all nervous. Some bands tense up when recording in such circumstances, but that doesn't prove to be the case here.
The beauty that's found on Acoustic at The Ryman is the warmth of the performance. While only 10-tracks in length, it is one of those albums that a pair of headphones and a great imagination can take a person listening at home, to the front row. Nowhere else is this more true than when "No One's Gonna Love You," takes hold at the midway point and "Funeral" guides listeners toward the end of this live jaunt.
As for those actually in the rows, their enjoyment of the night in which they are a witness to only seems to spur on the band even further. Post-song roars of acceptance are followed by multiple, sincere "thanks ya'll" sentiments from Bridwell. Throughout, Band of Horses appear genuinely humbled and grateful of the acceptance this audience pays them.
Due out February 11, Acoustic at The Ryman, is a kindly-crafted compilation for band devotees, as well as a worthy addition to the record shelf of any music fan that digs twang-based intimacy…and perhaps has a soft spot for The Band.
This album is: Riff Respected
Stay tuned for the Riffyou.com interview with Band of Horse's Tyler Ramsey for an inside look at Acoustic at the Ryman.
Tracklist:
1. "Marry Song"
2. "Slow Cruel Hands of Time"
3. "Detlef Schrempf"
4. "Everything's Gonna be Undone"
5. "No One's Gonna Love You"
6. "Factory"
7. "Older"
8. "Wicked Girl"
9. "The Funeral"
10. "Neighbor"
-Adam Grant
Please be sure to follow us on Twitter @riffyou and at Facebook.com/riffyou.