Riff Review: Kings of Leon – "Mechanical Bull" (Sony)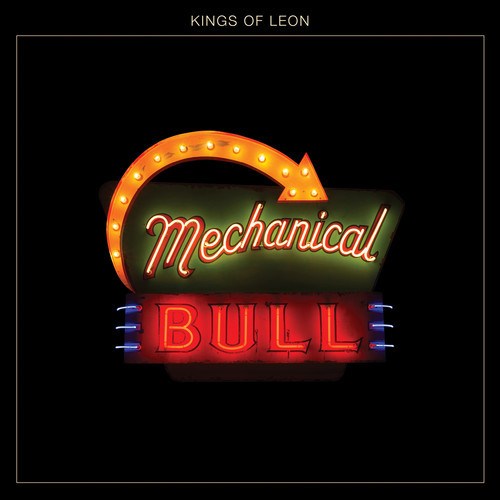 After rumblings that Kings of Leon melted down while out on the road with 2010's Come Around Sundown, these sweaty, searing and soulful southern rockers have made a triumphant return with Mechanical Bull, proving that a band can still land on its feet after enduring a bumpy ride.
Kicking off with radio-friendly and long-term brain occupying "Supersoaker," these tangling Tennesseans break out the dirty on "Rock City" and "Don't Matter," the latter of which paints the subject, presumably frontman Caleb Followill, embracing a hedonistic path and not being terribly concerned about the destination. The fuzzy guitars and grit are remarkably present here, as is the feeling that Kings of Leon have penned its own, re-modeled edition of Nirvana's "Lithium."
Five songs in we're introduced to "Temple," a speeding story of working up the nerve to get a gal's attention, and a willingness to sacrifice one's life for her. Destined for radio and on-stage glory, "Temple" keeps the quartet's pop chops alive, without the chance of nauseating those die-hard fans who bitched about "Sex On Fire."
"Family Tree" zips in the pop-sphere as well, but with a sexy storyline centered on knowing someone's "A to Z," clap-along sing-alongs, and southern pizazz, it may be more celebrated in concert than by the radio.
"Wait for Me" is this album's "Use Somebody," that while beautiful, sincere and romantic, stays away from the grandiose U2 riffs that made the a latter an easy to swallow offering for those who once thought that Kings of Leon was the name of a liquor manufacturer, not a band. Meanwhile, "Comeback Story" and "Tonight" are two late album gems that show the strength of the band's softer side, and its ability to know when to crank things up.
For a band that was reportedly on the brink not too long ago, Kings of Leon have found a way to put whatever hardships there were aside and execute a genuine and complete rock album.
This album is: Riff Respected