Blurred Rights? Robin Thicke Sued for Allegedly Ripping Off Marvin Gaye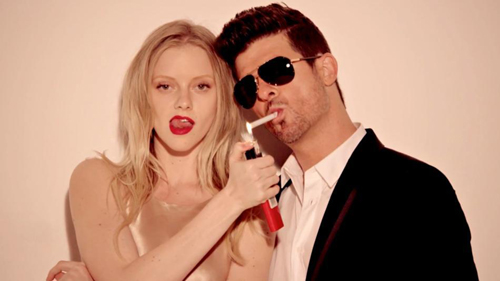 Robin Thicke is experiencing some of his own growing pains today after the estate of legendary soul artist Marvin Gaye filed suit against him, claiming  he plagiarized Gaye's 1977 track, "Got to Give It Up" when making "Blurred Lines." They also believe that Thicke borrowed from a pair of other songs.
This battle first came to the spotlight in August when the credited writers of "Blurred Lines" – Thicke, Pharrell Williams and Clifford Harris Jr. – sued the Gaye estate after it complained publically that Thicke's 2013 hit lifted too much from "Got to Give It Up." Thicke and company claimed that their song was "starkly different."
Within the countersuit, however, the estate further alleges that the melody and chorus in Thicke's 2011 track "Love After War" is similar to that of Gaye's "After the Dance." They also believe that Thicke's "Make U Love Me" includes "the similar bridge and identical lyrics" from Marvin Gaye's "I Want You." However, legal claims regarding the latter have not been put forth.
Interestingly, Gaye's music publisher EMI April is also targeted in the suit. Rolling Stone reports that it operates under Sony/ATV, the company that manages Thicke's music. The Hollywood Reporter adds that Gaye's family has accused the publisher of not protecting Gaye's songs. Also, the plaintiffs think that the publisher was trying to stop them from filing suit; giving up neutrality when the issue came about; and turning the public against them.
Now, Gaye's estate doesn't seem to just want money out of this suit, it reportedly wants EMI to lose the rights to the Marvin Gaye catalogue as well. It doesn't help that the Chairman of EMI and his legal representatives have been accused of running interference on the matter, so that the song can continue along its torrid pace and get Thicke some awards.
Unfortunately for Thicke, he didn't do himself any favours recently, as in a GQ interview he is quoted as saying that one of his favourite tracks is "Got to Give It Up," and that he would want to "make something like that, something with that groove."
Too bad Miley Cyrus can't steal this controversy's thunder from Thicke.