Silverstein to Release Album in May, Debut First Single

Canadian post-hardcore quintet, Silverstein, will release their eighth studio album, I Am Alive in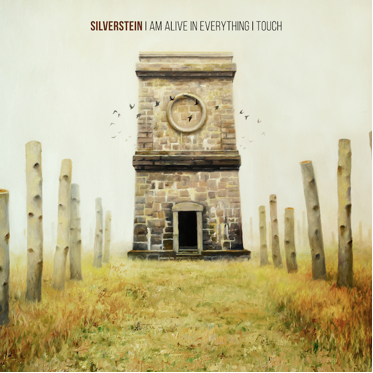 Everything I Touch, on May 19 through Rise Records and New Damage Records.
Recorded at Metal Works studio in Toronto, the album is divided into four chapters: "Borealis" (North), "Austeralis" (South), "Zephyrus" (West) and "Eurus" (East). Furthermore, each song's setting is a different city that geographically falls into one of the aforementioned regions. Recordings taken from each city have been incorporated into the songs.
"All the city clips we recorded, the transitions, and making sure the concept really worked and told this story of loneliness despite being surrounded by so much excitement," explains Silverstein vocalist Shane Told. "As much as I've put myself out there over all the records we've done, there's something more real about this one.  At times I almost stopped myself and said, is this going too far?  Am I going to say something I'm going to regret?  And after taking a step back and a few breaks from writing, I decided I needed to do this."
During Riffyou.com's November interview with Silverstein's Paul Koehler couldn't help but sound really  enthused about this album: "We want people to hear it and think that we didn't recycle the same stuff and are still innovating," he said. "When you're excited, you're inspired to do new and better things."
I Am Alive in Everything I Touch can be pre-ordered on iTunes today, while the lead single, "A Midwestern State of Emergency," can be purchased outright. You can watch the video for that track below.
I Am Alive in Everything I Touch Tracklisting:
BOREALIS
1. "Toronto (abridged)"
2. "A Midwestern State of Emergency"
3. "Face of the Earth"
ii.  AUSTERALIS
4.  "Heaven, Hell and Purgatory"
5.  "Buried at Sea"
6.  "Late on 6th"
iii. ZEPHYRUS
7.  "Milestone"
8.  "The Continual Condition"
9.  "Desert Nights"
iv. EURUS
10. "In the Dark"
11.  "Je me Souviens"
12.  "Toronto (unabridged)"
Please be sure to follow us on Twitter @riffyou and at Facebook.com/riffyou.