Soundgarden Releasing Rarities Collection on Vinyl

Last year, Soundgarden released a monster of a rarities package on CD, but now the band is giving wax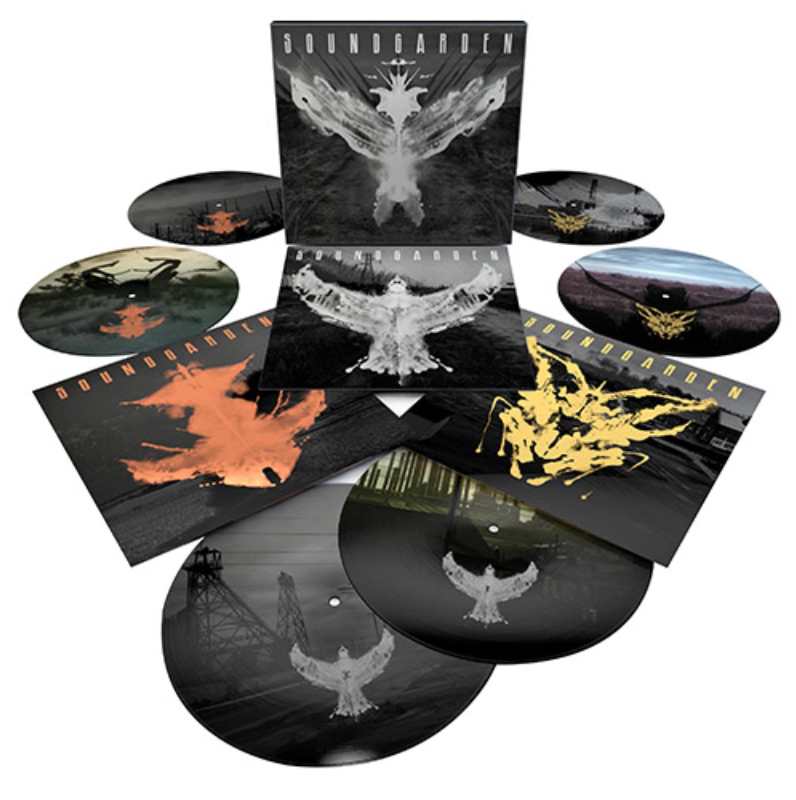 fans what they need: a beast of a vinyl box set.
Due May 19, Echo of Miles: Scattered Tracks Across the Path is a six LP offering that consists of unreleased original tracks, covers and oddities, with each segment represented on two pieces of vinyl, housed in three separate jackets with unique artwork.
The songs were pulled from 26 years worth of material and hand-selected by Soundgarden guitarist Kim Thayil.
"We write and record a bunch of songs, but we're limited to the space available, time-wise on an album," said Thayil in an interview with Rolling Stone. "So when we make CDs, we go, 'Here are these 10 or 11 songs that are going to make the album and here are these other songs that the record company is going to use on international releases or maybe B-sides for singles.'
"To us, it's a drag because we love these songs," he added. "We recorded them. We learned them. We tracked them. These are as valuable as anything else that we put on the record. That's what Echo of Miles addresses. Some reviewers might hear it as outtakes or simply B sides, but these are Soundgarden songs that were never present on a Soundgarden album."
Tracklisting:
Originals – LP One
Side A
"Sub Pop Rock City"
"Toy Box"
"Heretic"
"Fresh Deadly Roses"
Side B
"HIV Baby"
"Cold Bitch"
"Show Me"
"She's a Politician"
"Birth Ritual"
Originals – LP Two
Side C
"She Likes Surprises"
"Kyle Petty, Son of Richard"
"Exit Stonehenge"
"Blind Dogs"
"Bleed Together"
Side D
"Black Rain"
"Live To Rise"
"Kristi"
"Storm"
Covers – LP Three
Side E
"Swallow My Pride" – Green River
"Smokestack Lightnin'" – Howlin' Wolf
"Everybody's Got Something To Hide Except Me And My Monkey (John Peel BBC Sessions)" – The Beatles
"Thank You (Falettinme Be Mice Elf Agin) (John Peel BBC Sessions)" – Sly and the Family Stone
Side F
"Come Together" – The Beatles
"Stray Cat Blues" – The Rolling Stones
"Into The Void (Sealth)" – Black Sabbath
Covers – LP Four
Side G
"Girl U Want" – Devo
"Touch Me" – Fancy
"Can You See Me? (Friday Rock Show BBC Sessions)" – Jimi Hendrix
"Homicidal Suicidal (Friday Rock Show BBC Sessions)" – Budgie
"I Can't Give You Anything(Friday Rock Show BBC Sessions)" – The Ramones
"I Don't Care About You (Friday Rock Show BBC Sessions)" – Fear
Side H
"Waiting For The Sun (Live)" – The Doors
"Search And Destroy (Live)" – The Stooges
"Big Bottom (Live)" – Spinal Tap
"Earache My Eye (Live)" – Cheech & Chong
Oddities – LP Five
Side I
"Twin Tower"
"Jerry Garcia's Finger"
"Ghostmotorfinger"
"Night Surf"
"A Splice of Space Jam"
Side J
"The Telephantasm"
"Black Days III"
"Karaoke"
Oddities – LP Six
Side K
"Fopp (Fucked Up Heavy Dub Mix)"
"Big Dumb Sex (Dub Version)"
"Spoonman (Steve Fisk Remix)"
Side L
"Rhinosaur (The Straw That Broke The Rhino's Back Remix)"
"Dusty (Moby Remix)"
"The Telephantasm (Resurrection Remix)"
"One Minute of Silence"
Please be sure to follow us on Twitter @riffyou and at Facebook.com/riffyou.