Twin Forks Announce Canadian Headlining Tour

Friends of Riffyou.com, Twin Forks, have announced a Canadian headlining tour that'll kick off in Guelph, ON, on November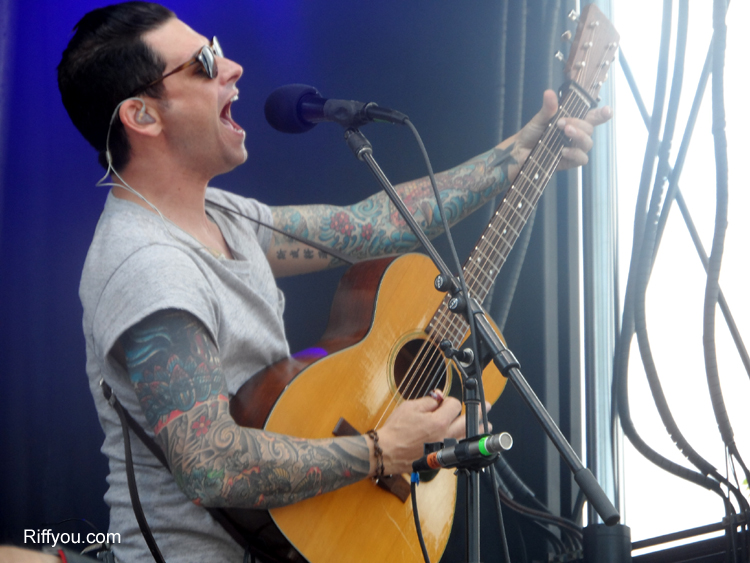 4, and wrap-up in Vancouver, BC, on November 17.
The modern folk group – which is fronted by Dashboard Confessional's Chris Carrabba – released their debut, Self-Titled album through Dine Alone Records earlier this year.
While on the surface this band may seem like a departure for one of the emo genre's primary figures, folk music is in fact the style of music that really captured Carrabba's imagination from an early age. What held him back from performing music like that, however, was a fear of not doing it justice.
"[The intimidation] is a big reason why I didn't take on this genre of music," explained Carrabba in an interview with Riffyou.com earlier this year. "I didn't think I could do it justice.
"The fact that I didn't know if I could excel within the parameters of this genre I respected so much kept me from wanting to play it," he continued. "That was a long time ago, and now I feel like I can. I'm a seasoned songwriter and I can certainly play the music. If I can play the songs, then the challenge becomes being able to write within the parameters of that style, excel, and find some new territory."
Before having a look at the tour below, check out this quick video chat we did with Carrabba regarding the Twin Forks single, "Back to You."
-Adam Grant
Tour Dates:
11.04.14 Guelph, ON – Van Gogh's Ear
11.05.14 Ottawa, ON – Mavericks
11.06.14 Montreal, QC – Cabaret Du Mile End
11.07.14 Toronto, ON – Lee's Palace
11.08.14 London, ON – Call The Office
11.11.14 Winnipeg, MB – Park Theatre
11.12.14 Regina, SK – The Exchange
11.13.14 Edmonton, AB – The Starlite
11.14.14 Canmore, AB – Communitea Café
11.15.14 Calgary, AB – Republik
11.17.14 Vancouver, BC – Imperial