Watch Arcade Fire's Inspiring Video for "We Exist"

Today, Arcade Fire officially released their video for one of Reflektor's strongest tracks, "We Exist." In it, The Amazing Spiderman Andrew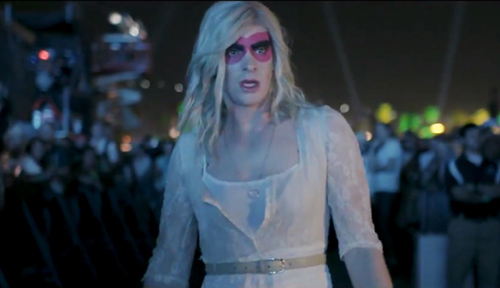 Garfield plays the role of a courageous, deep-in-America, young-man presenting himself to his community as a woman.
As he slowly and suspiciously enters what looks to be a predominantly redneck-filled bar, he watches the stares and cautiously takes a seat. Eventually he is approached by a patron and asked to dance. With hesitation, the dance begins. The hesitation would soon prove to have been an instinct that should've been relied upon, because this is when the dance floor bullying and harassing begins by a group of country boys.
The attack escalates before Garfield's character breaks into a dream-state and embarks upon a Flashdance-like routine, only to soon be accompanied by a troupe of burlier men. Eventually, Garfield transports out of there and works his way toward a stage where Arcade Fire is performing the track.
The crowd explodes with acceptance and he begins to move defiantly and freely upon the stage, dress and all. Boy, you have to wonder what the Coachella crowd was thinking as this happened back in April.
No less, this is a powerful and brave effort by Garfield and Arcade Fire. This is what happens when artists choose to make provocative videos that actually say something.
Have a look at it below:
-Adam Grant
Please be sure to follow us on Twitter @riffyou and at Facebook.com/riffyou.