Tour Diary: The Penske File Do America (and Canada too!) Pt. 4

Travis Miles here from Burlington, ON-based band The Penske File. For those of you who don't know, we play a folk-infused blend of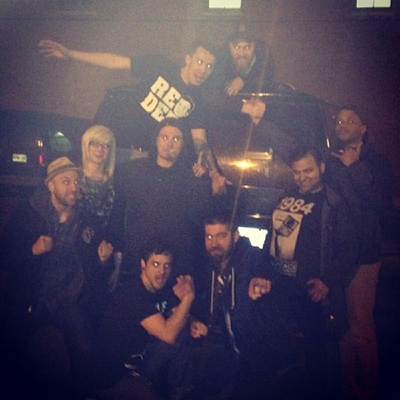 melodic punk rock, and have recently embarked on our first (legitimate) American tour. I will be updating my firsthand accounts of our travels here at Riffyou.com through a series of blogs, photos, and run-on sentences. If that tickles your fancy, read on.
As I drift in and out of sleep in the front seat, the van pushes north through the night and into the morning. We are going home, however not for long. It's early in the morning on Saturday May 10, and the American leg of our tour is over. We will be back in Canada soon. Back to familiar faces, roadside views, and venues.
In the week since my last update, we found ourselves playing in Philadelphia, PA, Trenton, NJ. (not really), Brooklyn, NY, New Haven, CT, Boston, MA, and Lowell, MA.
When I left off we were on the beautiful route from Pittsburgh to Philadelphia. We arrived in Philly that night around 9pm, and met up with a friend of Dallas', who we'd be staying with for the next two days. After posting up in her living room, we went out to a nearby bar for a few pints. A few hours later, half drunk and contended after a seemingly long day, I crashed out in the van.
When I awoke the next day, it was early, the sun was high, and so was the temperature in the van. Sweating feverishly, I immediately rose up and regretted my decision to sleep on the back bench, rather than our friend's floor. That was no matter though. I rose quickly and struggled out of the van, where I was greeted by a soothing breeze.
That night we loaded into the small and very unique upper level of Kung Fu Necktie in the city. The show, while rather small, was great. All the bands ruled and everyone was super cool.
The next day, Monday, May 5, we were to play in Trenton, NJ, at a venue called Mill Hill Basement. We had a great day hanging out in Mercer Park, which was a few miles out of the city, and got to the venue in time to find out that no other bands were scheduled to play, and that there was no promotion for the show. We loaded in, sat around for a few hours and eventually loaded out. It was a weird experience to say the least, but nothing to get hung up on.
After loading out, we drove into Brooklyn through the night in order to avoid the brutal city traffic. Having no close contacts in the massive city we found a legal place to park nearby the venue, and all four of us slept in the van. This was something that would be without a doubt comical to any outsiders looking in. Being on the inside of this I can safely say it was mostly just crammed and smelly.
Waking up already in Brooklyn, we spent a great day making all of the tourist stops in Manhattan (Central Park, Times Square etc.) and made it back to van in time to load into Grand Victory — our venue for the night.
There was a decent turn out at the show that night, but many of the attendees seemed indifferent, reinforcing the observation that big cities are much harder to crack, as there is often so much going on and it is hard to get people excited about something they've never heard about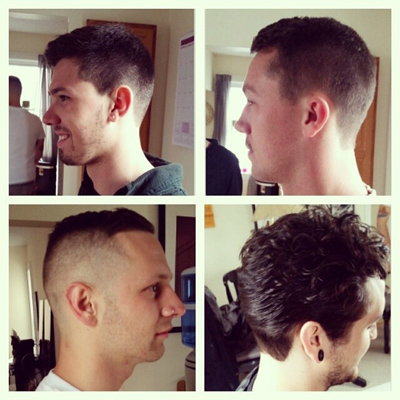 before. That being said, the show wasn't bad, but just okay.
We again found ourselves without a place to stay, and drove into New Haven, CT, through the night. In New Haven, we played at a pub called Anna Liffey's. The show's attendance was pretty poor, but we had lots of fun and were taken care of very well by the venue's staff, patrons, and the show's promoter.
Next, we were in Boston, MA. The show here was great and we played with some exceptional bands, most notably Rebuilder, who we also shared the stage with the following day in Lowell.
We stayed at Dan from Rebuilder's house that night and experienced some of the best hospitality of the tour, leaving the house the next day hung over, full, showered, and with a couple of gifted records in hand.
We headed to Lowell where we met up with the shows promoter Markie, and before having lunch at her place she offered us the – much needed – service of giving us all haircuts. Needless to say we accepted the offer, and for the first time ever are now travelling home from tour void of looking like haggard pieces of shit.
Anyways, the show that night was excellent, all the bands were great, and now we get to go home for a couple days and rest up before the monstrous party that is Pouzza Fest.
-Travis
Have a look at this feature interview Riffyou.com did with The Penske File in late 2013.
Please be sure to follow us on Twitter @riffyou and at Facebook.com/riffyou.