WIN RISE AGAINST'S NEW ALBUM, "THE BLACK MARKET"

Rise Against recently released their new album, The Black Market, and we want to make sure that you have a copy of it! So,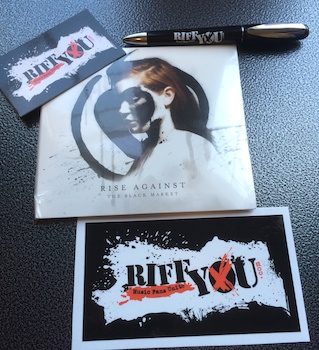 here is a little contest action for you.
All you have to do is, follow us on Twitter @riffyou or at Facebook.com/riffyou, and tell us which Rise Against song (past or present) is your absolute favourite. Please use #riffyourise to ensure that we see your entry.
Contest closes Monday, September 8 at 5pm EST. The two winners will be selected at random, and contacted shortly thereafter.
We will also include some Riffyou.com swag with your CD…because we're nice like that.
Good luck!
Rise Against will be one of the headlining acts at Riot Fest Toronto 2014. We'll be on the scene, so please stay tuned for a bunch of festival coverage.
Please be sure to follow us on Twitter @riffyou and at Facebook.com/riffyou.