Reflekting on Arcade Fire's All-Timer of a Tour

Last night, marked the final show of Arcade Fire's triumphant Reflektor tour, a 74-date visual and audible tour de force that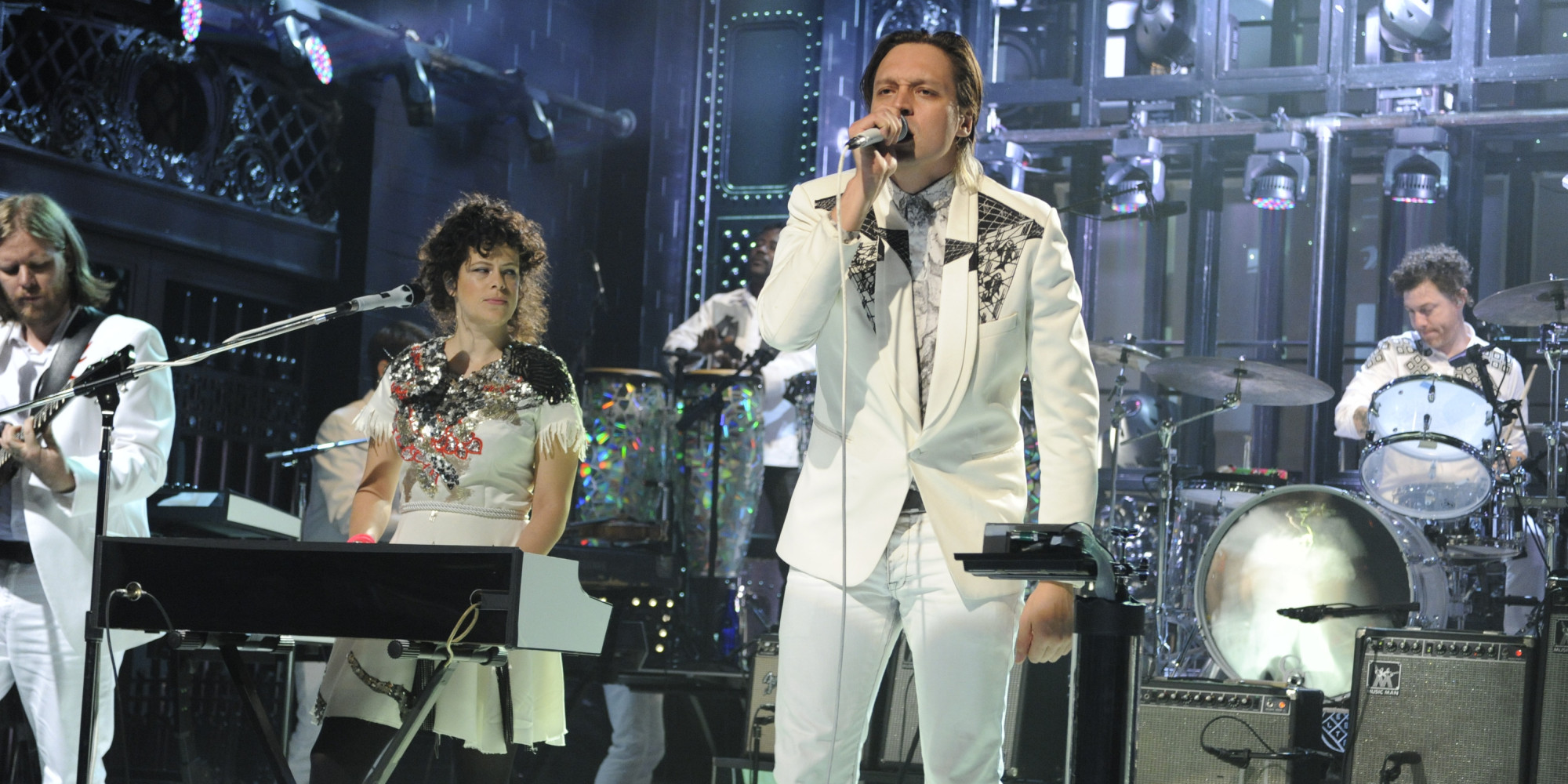 arguably hasn't been seen, praised, or reported on at such a level since U2's 360 tour earlier this century.
There are a number of factors that go into this theory, not the least of which is the fact that Arcade Fire had a classic album to use as its foundation for this run, and that it just so happened to be padded by a Grammy Award-winning album (The Suburbs), and rounded out by two previous albums that have received very different levels of praise since their release (Funeral, and Neon Bible).
From the Riffyou.com vantage point, this was the tour in which Arcade Fire needed to use as its launching pad into the upper stratosphere of modern day artists hoping to find a spot on the music industry throne. The door was open for them, and they cleverly squeezed all 86 members (slight exaggeration, of course) through it.
In a very thorough, excellent report, Consequence of Sound has outlined just how diversified the band's touring sets were. In an era where a number of high-profile artists keep to a designated collection of songs night in and night out (as to not make the production, sound and lighting crew's jobs anymore difficult), Arcade Fire flipped the script and performed a total of 68 different songs throughout the Reflektor tour, plus 35 covers. The latter of which sometimes included appearances by Marky Ramone (Ramones), David Byrne (Talking Heads), Debbie Harry (Blondie), and others.
What this covers-craze also encouraged was a vast amount of media support from the music press. Each cover/guest appearance pulverized the Internet and made headlines. Whether an intentional, or unintentional marketing ploy by Arcade Fire, they did a damn good job of showing off their musical chops, while at the same time making sure no one was unaware of their tour.
Even with the covers and guest appearances, the Reflektor shows were astoundingly impressive from an atmospheric level. The papier-mâché masked characters dancing and playing about (some of which were really famous people); the not-to-be-ignored wardrobes; the mirror-covered character that acted as a human disco ball; and the artsy, yet not overly mechanical looking stage production complimented the music, but by no means diminished it.
And while Arcade Fire got ripped ahead of this tour for introducing a requested dress code, said concept worked once people realized they didn't have to act like it was Halloween. However, for those who did make it feel like Halloween, kudos to you. Seeing you in the crowd and attempting to purchase beer while wearing a feathery mask, only added to the occasion.
What really needs to be noted here is that Arcade Fire brought a highly credible level of artistry to a tour, yet somehow managed to make the shows feel like a well-attended party. At the same time, it can also be argued that they managed to strip away the 'super serious band' reputation music fans and critics have bestowed upon them.
Of course, Arcade Fire takes what it does seriously, but by no means did these shows make you feel as if you were in a louder-than-usual library, having to abide by a certain number of rules. Let's say what needs to be said here: Arcade Fire have fun. It may appear pretentious at times, but, really, it's hard not to embrace this type of pretentiousness in a world where Kanye West exists.
Lastly, I'm kind of sad that the Reflektor tour is over. I attended the Toronto show back in March, and am still thinking about it to this day. Having personally seen Arcade Fire go from the tiny confines of the Legendary Horseshoe Tavern to an arena the size of Air Canada Centre, was like watching a really cool, destined-for-greatness walk across the graduation stage.
I'm happy to have been, and continue to be, a witness.
-Adam Grant
Please be sure to follow us on Twitter @riffyou and at Facebook.com/riffyou.