Brody Dalle Battles "Slut Shaming" Accusations

Earlier this week, Aussie punk rocker and friend of Riffyou.com, Brody Dalle, took to Twitter to rail against the arguably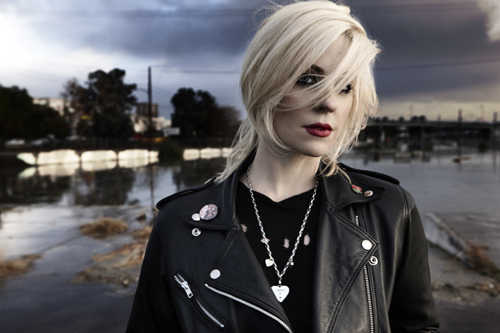 sexually excessive "Booty" video featuring Jennifer Lopez and Iggy Azalea.
In a series of tweets, Dalle offered the following: "I think JLo and Iggy Azalea have lost their heads up each other's big butts.I'm trying to understand what the point of their horrendous video is but I can't find one.The song is a piece of crap that was written by waaay too many people including a well know woman beater [Chris Brown]."
Now, Dalle is defending her stance thanks to another tweeter who suggests that her opinion has "inspired lots of girl hate and slut and body shaming."
In response to such accusations, Dalle has released the following statement upon her Facebook page:
"Slut shaming? Body shaming? Girl hating? Please don't assign incorrect motives to my tweets. It is you who is implying they are "sluts", not me. The definition for slut is "a woman who has many casual partners". Since when did being scantily clad come to mean having many casual partners?
"I don't like the word slut, I don't use the word slut, that word is not in my vernacular. If a woman has many casual partners, it is none of my business. I have absolutely no problem with what women do with their bodies in their private lives. Women should feel free as men do to sleep with whomever they want to as long as it's consensual and with out being labeled a slut. That would be equality. (A girl can dream).The trendy term "slut shaming" is inadvertently calling scantily dressed women "sluts". We should all stop using it.
"My problem with this song and the video is the conflicting message it's sending to our impressionable young girls and boys.
"How are the lyrics 'give him what he asks for' empowering to women? How? How is spreading your bottom apart and singing 'give him what he asks for' empowering at all?
"JLo and Iggy may feel empowered by their bodies and that's fine, their bodies ARE powerful, beautiful and life giving. But they are so much more than just their bodies. They may feel that using their bodies is the only currency they have in order to stay popular and on the top. It has become a contest of who gets the most hits on youtube and vevo and who can take it the furthest, not about the quality of their songs and the messages they are sending. And why? To make lots of money and to line the pockets of the big machines, regardless of who that affects.
"I want my daughter to grow up knowing that she is more than just the sum of her 'body parts.' I want her to feel valued for her brains before her body.
"I want my son to grow up respecting women on all levels. Especially their brains, opinions and ideas. I don't want my son to see women as walking butts and tits, but to see women as equal humans."
Preach!
Click here to read Dalle's entire post.
-Adam Grant
Please be sure to follow us on Twitter @riffyou and at Facebook.com/riffyou.